Mad-Hatter Tea Party at South Shore Ballet in Hanover MA
South Shore Ballet Theatre invites local children to a Mad-Hatter Tea Party on Saturday May 16th from  3:30-5pm
Talking rabbits, mysterious caterpillars, a chance to dance with real ballerinas … and of course, tea and cookies! Come to South Shore Ballet Theatre's Hanover studio for a Mad Hatter tea party to celebrate their upcoming Alice in Wonderland ballet.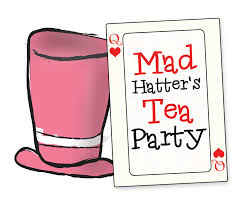 Guests also will have the opportunity to decorate their own mad hats. Children wearing a mad hat to the June Alice in Wonderland performance will receive all sorts of curious special treatment from Alice cast and crew.
"Our Alice is a very creative, fun, family-friendly show," says SSBT founder Marthavan McKeon. "And it may be the only interactive ballet you'll ever attend, which kids love."
*South Shore Ballet Theatre's Mad Hatter Tea Saturday, May 16 from 3:30 to 5 pm, 24 Rockland St., Hanover. Ages 2-12, accompanied by adult. Suggested donation $2.
*South Shore Ballet Theatre's Alice in Wonderland June 13 & 14 at 2:00 Hingham's Derby Academy. Tickets are $20 each, $15 for children under 12 on sale at Tututix.com.
South Shore Ballet Theatre • 24 Rockland St, Hanover, MA 02339 • (781) 312-7224
If you love Mad Hatter and Alice in Wonderland  then check out Disney Cakes & Sweets – Magical Recipes to Make at Home!