Christmas at Island Grove 2016 in Abington MA
Abington Celebrates Christmas at Island Grove  will be held  on  Saturday, December  10 from 3 to 6pm.   The first annual  holiday  event  promises to hold the magic and feel of an old town Christmas with a special tree lighting at Island Grove's bandstand.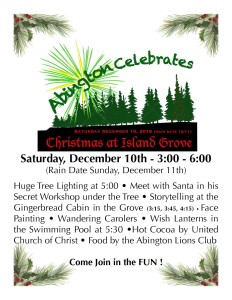 Events of the day include  Santa's workshop,  wandering  caroling, face painting, hot cocoa and other refreshments. The "Cabin in the Grove" will also be open for storytelling and home baked cookies made personally by Mrs. Claus.
A huge tree lightening at 5pm and  the Island Grove Bridge will be aglow once again with luminarias as well wish lanterns adorning the pool area.
Most Christmasiest House in Abington" contest, which kicked off at the Abington selectmen's meeting Monday night, Nov. 21.
"This meeting will be the kick off to the event to accept nominations until Dec. 10th," said Ulwick. "After Dec. 10th, we will start to put up a list of the nominated homes and people can vote on them for $1 per vote."
The Island Grove Park is accessible either via the Park Street entrance or on foot from Wilson Place across Memorial Bridge.