New England Patriots Football Training Camp 2018 in Foxboro MA
For Patriots fans who want to get closer to the action or are looking for an inexpensive way to entertain the kids,   Patriots Training Camp offers just the ticket.
Ninety Patriots players report to training camp at Gillette Stadium for daily practice sessions under the watchful eye and often vociferous instruction of their coaches.
Join thousands of other Patriots fans for an opportunity to enjoy the sights and sounds of football in Foxborough at Patriots Training Camp.
All public training camp practice sessions and parking are FREE.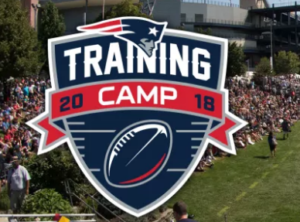 Schedule:
July 26 | Practice Time – 9:15 AM
July 27 | Practice Time – 9:15 AM
July 28 | Practice Time – 9:15 AM
July 29 | Practice Time – 9:15 AM
July 30 | Closed to the public
July 31 | Closed to the public
August 1 | Practice Time – 9:30 AM
August 2 | Practice Time – 9:15 AM
August 3 | Practice Time – 9:15 AM COME CELEBRATE TOM BRADY'S BIRTHDAY AT TRAINING CAMP ON FRIDAY
August 7 | Practice Time 8:50 AM
August 8 | No Practice
August 9 | Preseason game vs. Washington Redskins
August 12 | Practice Time 3:15 PM
August 13 | Practice Time 9:15 AM
August 14 | Practice Time 1:00 PM (Final Day of Open Practice)
*Training Camp Gates will open at 2:00 PM on August 12, 8:00 AM on August 13 and 12:00 PM on August 14. Practice will last approximately two (2) hours. The fan activities will remain open one (1) hour after practice ends.
Besides watching the team practice, we hope you explore all the fun-filled activities, games and photo opportunities along the Fan Walk and Play Football area. Be sure to keep an eye out for appearances by Pat Patriot, the Patriots Cheerleaders and Patriots Alumni.
Please note all activities will stay open after practice for one (1) hour.
All fans participating in physical, interactive activities at training camp are required to sign a waiver form. You can print, fill out and bring the form with you to camp, or, while attending camp, visit either the Guest Assistance tent on the Fan Walk or the Waiver tent in the Play Football area.