Quincy August Moon Festival 2018
The 31st  Annual August Moon Festival will be held on Sunday August 19th  12-5PM Downtown Quincy on Coddington St. This is a great FREE family friendly event to learn about the Chinese culture.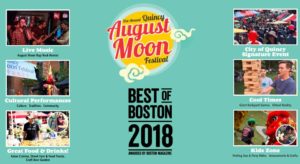 The festival is bigger and better than ever with traditional performances and tunes that rock, amusements for all ages, a taste of Asia and food trucks galore! Be there at 12 noon on August 19, Coddington Center, Quincy when the festival kicks off with Opening Ceremonies and Lion/Dragon Dance by Wah Lum Kung Fu & Tai Chi Academy, Malden & Quincy MA
This year's festival will feature the new addition of Pour Garden craft beer garden, oversize backyard games sponsored by Carney Hospital, A Caritas Fam, cool games and giveaways from WEEI Sports Radio Network, selfies with ghostly characters from Ghost Ship Harbor/ Discover Quincy virtual reality, hula hoop artist extraordinairre Sara Kunz Circus and Korean Beef BBQ Cooking Demonstration with Celebrity Chef Chef Raymond Alongi (as seen on Hell's Kitchen).
Check out the return of fan favorite, the August Moon Remix featuring DJ Andrew Nitty, rap artist Bridgeside Entertainment Lukas Dow, hip hop East Side Elements and The Sunset Kings jazz-rock fusion band.
Lineup also includes Dance Revelasian 樂舞族 Wah Lum Kung Fu & Tai Chi Academy, Malden & Quincy MA ShinDaiko Pooja Tiwari BEST Taekwondo – Quincy
Families can visit the expanded Kids Zone with Animal Craze's free petting zoo sponsored by WORK Inc., free pony rides sponsored by Soleil Physical Therapy & Wellness Inc., South Shore YMCA Quincy family stage with a lego challenge and dunk tank plus cultural crafts and activities from lantern making to Chinese painting AND amusements sponsored by Equitable Bank and MountainOne
This is the place to be for food, food, food! Food trucks and food vendors: Boston's Baddest Burger & Sandwich Co., Maine-ly Lobstah ,Bon Me Foods, Chatime Quincy, Deans Concessions, Foodzilla on Wheels, Mimzee's Ice Cream, Roxy's Grilled Cheese, Thai Hut Restaurant (Somerville), L&M Slush, South Shore Taco Guy, Fenway Sausage Works, Vivi Bubble Tea Cafe Quincy, Schoolhouse Pizza, Kebabish food truck, Fuji at WoC, The Dapper Doughnut – Natick Mall (oh and they will have moon cake samples, too!) Don't forget craft beer and wine from Pour Garden