Easton Lions Holiday Festival Weekend 2018
The Easton Lion's Annual Holiday Festival will be held (rain or shine or snow) Saturday December 1st from 10 am to 6 pm and Sunday December 2nd  from 12 noon to 5 pm. There is a Breakfast with Santa on Sunday morning.  This year's theme is "Kindness Matters". All FREE events occur in and around the Historic District of North Easton, MA at the Rockery and Oakes Ames Memorial Hall on corners of Main, Lincoln, and Barrows Streets.
It includes a very popular Arts & Crafts Fair both days, live entertainment outside, food, games, rides, parades and a kids show and Holiday Parades on Sunday.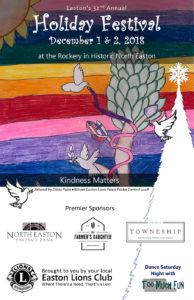 Noon – 5:00pm Rockery Grounds Family Festival Events
Trackless Train sponsored by Creative World Children's Learning Center, FREE for all!
Ride the ever popular trackless-train or enjoy a hayride around the historic district.
Enjoy warm food, hot chocolate, and drinks prepared by the Easton Lions Club. Make
sure you check out our new addition: a climbing wall!
Food Booth sponsored by Roche Brothers Easton
Noon – 5:00pm Oakes Ames Hall Arts and Crafts Fair
Come in and enjoy two floors of beautiful arts and crafts and displays of finely crafted
wares. Great shopping with an incredible array of gifts for family and friends.
Free admission
Noon – 5:00pm Oakes Ames Hall Lodge Beer Garden
Sponsored by Shovel Town Brewery
Enjoy the local, craft brewed offerings of Easton's own Shovel Town Brewery. The
Brewery will have a selection of their favorite beers on tap for sale to anyone 21 years
or older.
Noon – 4:00pm Rockery on Main St Lions Eyemobile
Come warm-up in the Lions' District 33-S Eyemobile, a specially equipped RV designed
to provide FREE health screenings for vision, hearing, and blood pressure.
All screenings are FREE
Noon – 4:00pm Ames Free Library lawn Carnival Games
Experience exciting challenges and win prizes playing the carnival games, or challenge
your friends in the Jousting Arena. Try your skill at: Plinko, NERF Blaster, Cola Ring Toss,
Fishbowl Toss and more. 1 Ticket ($1 each) per play
2:00 PM – 5:30pm Entertainment Tent Live Music
Sponsored by Avery Lee Williams Family Trust
Come enjoy local artists performing throughout the afternoon. Sound by Sraveo.
Free at the Rockery
5:00pm Rockery Santa Arrives & Lighting!
Sponsored by Shovel Town Brewery
Bring your family and friends to welcome Santa as he arrives on his fire truck
Sunday December 9th
8:00am – 10:30am Oakes Ames Hall/2nd Floor Holiday Breakfast
Sponsored by Bank Of Easton
Start your Festival morning with Breakfast by The Rockery! Prepared by Boy Scout Troop
193 and featuring breakfast items from The Farmer's Daughter! Enjoy Eggs, Sausage,
Fruit, Coffee and many other morning delights along with the sweet, smooth sounds of
The Easton Jazz Quartet! Santa will also be there, so bring your camera!
Tickets $8 ea., $30 for families
up to six
Noon – 5:00pm Rockery Grounds Family Festival Events
Trackless Train sponsored by Creative World Children's Learning Center, FREE for all
Ride the ever popular trackless-train or enjoy a hayride around the historic district.
Come experience the new climbing wall. Other rides and amusements will be available
also. Enjoy warm food, hot chocolate, and drinks prepared by the Easton Lions Club.
Noon – 5:00pm Entertainment Tent Live Music
Sponsored by Avery Lee Williams Family Trust
Come enjoy local artists performing throughout the afternoon. Sound by Sraveo.
Free at the Rockery
Noon – 4:00pm Oakes Ames Hall Arts and Crafts Fair
Come in and enjoy beautiful art and crafts and displays of finely crafted wares. All
crafters are on the first floor. Great shopping with an incredible array of gifts for family
and friends. Free admission
Noon – 4:00pm Ames Free Library lawn Carnival Games
Experience exciting challenges and win prizes playing the carnival games, or challenge
your friends in the Jousting Arena. Try your skill at: Plinko, NERF Blaster, Cola Ring Toss,
Fishbowl Toss and more. 1 Ticket ($1 each) per play