Hanover Mall Touch a Truck 2019
The South Shore Children's Museum    will be hosting a fun Touch a Truck event on Saturday May 11th 12-4pm. This was rescheduled from an earlier rain out date.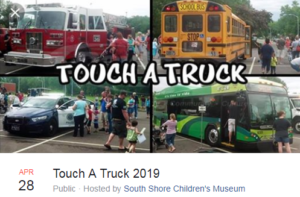 Parents/Aunts/Uncles/Grandparents plan a fun-filled day   and see the wide eyes and smiles of the children as they pretend to drive their favorite truck or explore a tire that's taller than they are!
We bring all of your favorites out: Joe's Crazzy Critters Animal Touch Center, jumpees, and Miss Stacy's dance party.
A fun extra this year is our Dunk a Yankee dunk tank! Lots of sweet treats and fun activities for the entire family!
$5 per person. This event is in the old JCPenney parking lot.