South Shore Art Center Festival 2022 in Cohasset MA
The South Shore Art Center Arts Festival will be held over Father's Day weekend Friday June 17th  Saturday June 18th and Sunday June 19th at  the Cohasset town common. It mixes the best of small town New England summer festivals with an uncommon attention to detail and commitment to presenting quality art and handmade craft.
South Shore Art Center Arts Festival celebrates its 67th year and showcases craft and fine artists from New England and beyond. In addition to juried exhibitor booths, the Arts Festival features a juried art exhibition and members' show, live music performances, artist demonstrations, children's art activities and a young artist exhibition.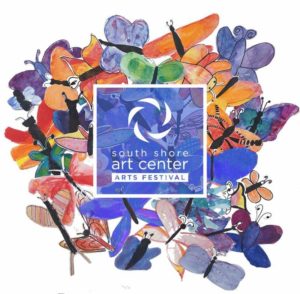 This year's Festival honors the memory and contributions of the late Dorothy Palmer who played a pivotal role in the founding and longevity of South Shore Art Center.
$5.00 donation suggested
Festival Music Schedule:
Friday, June 17:
1:00 pm – Naked Bull
2:30 pm – Birch Swart
4:00 pm – SSC Student Band
5:30 pm – Awards Ceremony
Saturday, June 18:
10:00 am – Jim Armstrong
11:30 am – Urban Nutcracker Dance
12:00 pm – Rusty Skippers
1:00 pm – Danny Gallagher
3:00 pm – Riverboat Stompers
5:00 pm – The Buzztones
Sunday, June 19:
12:00 pm – John Cate and the van Gogh Brothers
2:00 pm – Grand Theft Audio
4:00 pm – Classic Vibe
Festival Untold Brewing Beer Garden Hours:
Friday 1 – 7 pm
Saturday, 1 – 7 pm
Sunday, 12 – 5 pm
Festival Special Attractions Include:
• Juried Art Exhibition, Members' Show and Tent Talks in the Main Tent
• KidsTent, sponsored by Granite City Electric, featuring a Young Artists' Exhibition and interactive art-making activities
• Art village of juried craft exhibitior booths encircling the green with exquisite jewelry, home and garden products, hand-made clothing, ceramics, fine art and photography
• Non-stop performanecs on the sound stage from big band to funk to rock-n-roll
• Installation of three exhibitions – Dorothy Palmer Solo Show, Faculty Showcase and Jess Hurley Scott faculty feature – in South Shore Art Center galleries
• Festival Preview Gala, Breathe Life, on Thursday evening, featuring Rob 'Problak' Gibbs, the artist behind some of Boston's most iconic murals including the larger than life Breathe Life series commissioned by the Boston Museum of Fine Arts