America's Hometown Thanksgiving Parade & Celebration 2022 in Plymouth MA
America's Hometown Thanksgiving Celebration will occur in Plymouth, Massachusetts the weekend before Thanksgiving. Saturday November 19th   with the huge Thanksgiving parade waterfront activities for the whole family.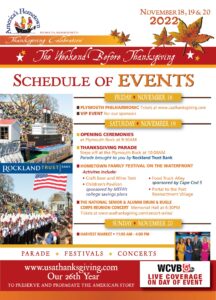 The weekend of festivities has become a beloved holiday occasion as well as an important link to our nation's history and heritage. For 20 years, hundreds of thousands of people from all walks of life have traveled to the historic Plymouth Harbor and Waterfront to experience a bounty of authentic Americana. The celebration of Thanksgiving becomes history-brought-to-life as Pilgrims, Native Americans, Soldiers, Patriots, and Pioneers proudly climb out of the history books and onto the streets of Plymouth.
Parade Saturday morning
The Saturday morning celebration festivities begin at 9:30am with Opening Ceremonies, the parade steps off at The Plymouth Rock at 10:00am on the Plymouth Massachusetts historic waterfront with an opening ceremony featuring a variety of top-quality entertainment.
This is one of America's only historically accurate chronological parades, visually bringing to life America's rich heritage representing each century from the 17th through the 21st. In showing the preservation of America's history through the years, beginning with the Pilgrim era, we promote an appreciation among our citizens for our rich heritage.
The parade is ranked the #1 Thanksgiving parade in the nation. It features beautifully decorated floats representing historic events, honoring national anniversaries and celebrating every period of American history.
Patriotism and hope is revived in the hearts of observant adults and children as the floats, drum and bugle corps, and military bands march thru the streets honoring the courageous defenders of our country: the men and women who serve in the Army, the Navy, the Marines, the Air Force and the Coast Guard.
Educational and economic factors aside, the parade offers plenty of fun and entertainment to attract visitors from all corners of the United States and even beyond. Viewers are treated to a visual trip back to the colonial days.
SATURDAY AND SUNDAY
The Waterfront in Plymouth is one of the most historic locations in America. Visited by millions of tourists who come to see Plymouth Rock and the Mayflower II which grace the shores of the Plymouth waterfront. How could you find more quintessential New England events then the America's Hometown Thanksgiving Celebration's waterfront activities?
A few of our activities are held on DCR Pilgrim Memorial State Park.
Once you experience Plymouth during the Thanksgiving season you will never want to be anywhere else. We have many exciting events planned, all in heated tents. Come see, enjoy and experience what America is all about.
Craft Beer and Wine Garden – SATURDAY
Children's Pavilion sponsored by MEFA's college savings plans. MEFA UFUND – SATURDAY
Food Truck Alley sponsored by Cape Cod 5 – SATURDAY
Historic Village & Living Historians sponsored by The Jenney Interpretive Center – SATURDAY
The Harvest Market – SUNDAY
Media & Videos
FOOD TRUCK ALLEY
JOIN US AFTER THE PARADE ON THE WATERFRONT
Hometown Food Truck Alley!
Alden Park
Be Well Honey
Inn Seasons Resorts
Noonan Consessions
Tara's Fried Dough
Lovin Lobster
Cottage Accents
HARVEST MARKET
Sunday – November 20th, 10am – 4 pm
Meet local farmers and food makers as you gather Thanksgiving feast ingredients to celebrate the fall harvest. Prepare your Thanksgiving dinner using locally grown, fresh from the farm fruits, vegetables, herbs, preserves, eggs, grass fed meats, and mushrooms.
Where to watch
Uva is THE place to enjoy America's Hometown Thanksgiving Celebration Parade!
On Saturday, November 19, Uva will be open extended hours starting at 8 a.m. with a MIMOSA & BELLINI BAR so you can sip and watch the parade.
Outdoor dining is over for the season so tables will not be availbe for reservation, but you can enjoy your 
 beverages on the sidewalk in front of Uva and feel free to come in and warm up inside
!
We'll also be open for lunch so you can get a flatbread or build your own charcuterie board. Continue the party with SELF-SERVE wine all day!!!   Uva is located at  46 Main st Plymouth, MA
Parking Information & Restrictions
The parade will proceed South on Water Street, North on Main Street Extension to Main Street, North on Court Street, and will end at Benny's Plaza/Nelson Street. The parade route will be closed to vehicular traffic at 8:30 a.m.
Water Street will be closed with no parking between South Park Avenue and Union Streets from 7:00 a.m. to 4:00 p.m. or until such time as it is safe to open. The public parking lot behind Memorial Hall will be closed to the public from 7:00 a.m. through the end of the parade. Overnight parking in this lot will not be allowed beginning at midnight (12:00 a.m.) on November 19, 2022.
There will be extensive parking restrictions on Court Street, Main Street, and Main Street Extension beginning at 7:00 a.m. until the parade ends. There will be no parking on both sides of these streets from Water Street to Samoset Street and no parking on both sides of Court Street between Samoset Street and Nelson Street. Overnight parking in these areas will be restricted as posted.
In addition, there will be no parking permitted on Carver Street and Lincoln Street as well as restrictions on Allerton Street, Vernon Street, Russell Street, So. Russell Street, and Summer Street.
Public parking in Stephen's Field will be restricted to the dirt areas only to allow for busses to egress the area. No parking will be allowed in Nathaniel Morton Elementary School parking lots.
All parking restrictions will be posted by the Department of Public Works (DPW) with signage and/or traffic barrels.
All violators are subject to a fine and towing.
Shuttle Bus Service will be provided this year to all visitors from 7:00 a.m. through 3:00 p.m. Shuttle Bus service will run from the Plymouth County Registry of Deeds and District Court Parking Lots (50 & 52 Obery Street) to Lincoln Street. A secondary pick-up area will be at the Kingston MBTA Commuter Lot and will drop off/pick-up on Lincoln Street.