Patriots Place Saint Patrick's Irish Festival 2023 in Foxboro MA
The Patriots Place 12th   Annual Irish Festival will be held on Saturday March 11th stating at 11am. The popular St. Patrick's Day event features live performances by Irish musicians and step dancers and free Irish-themed activities for children.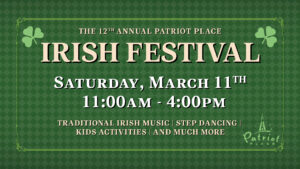 IRISH FESTIVAL AT PATRIOT PLACE 
March 11th • 11:00am – 4:00pm
The daylong celebration will feature live performances by Irish musicians and step dancers, as well as a full slate of free Irish-themed activities for the whole family to enjoy. This popular Patriot Place tradition is free and open to the public.
The fun includes musical performances from Black Velvet,
Devri
and Jenny's Chickens on the Dean College Stage, as well as Irish step dancing performances from several talented groups hosted by Six String Grill & Stage. Throughout the festival, families can also enjoy activities including airbrush tattoos, caricature artists, a balloon artist, petting zoo and more.
Additionally, Patriot Place will host a number of special appearances throughout the day, including the Providence Hurling Club and Old Colony Highland Pipe Band. The Patriot Place North Marketplace will also be lined with several authentic Irish merchants, including the Irish Import Shop, Eire's Irish Imports, JAT Creations and more. The Irish Festival will take place rain or shine.
 LIVE IRISH ENTERTAINMENT 
 DEAN COLLEGE STAGE
11:00 AM – 12:00 PM • Black Velvet Band
12:00 PM – 12:15 PM • Sullivan-Stewart School of Irish Dance
12:30 PM – 2:00 PM • Devri
2:00 PM – 2:15 PM • Sullivan School of Irish Dance
2:30 PM – 4:00 PM • Jenny's Chickens
 SIX STRING GRILL & STAGE
11:00 AM – 11:30 AM • Greene-O'Leary School of Irish Dance
12:00 PM – 12:30 PM • Sullivan School of Irish Dance
1:00 PM – 1:30 PM • Sullivan-Stewart School of Irish Dance
2:00 PM – 2:30 PM • Dunleavy Boyle Academy of Irish Dance
3:00 PM – 3:30 PM • Harney Academy of Irish Dance
 SECOND STAGE (located outside Walpole Outdoors)
11:00 AM – 1:00 PM • Boxty
2:00 PM – 4:00 PM • Erin's Guild