Best Christmas Holiday Lights South Shore Boston 2022
Where are the best places to see Christmas Lights South of Boston we asked that on Facebook and here are some of the responses!  2022 list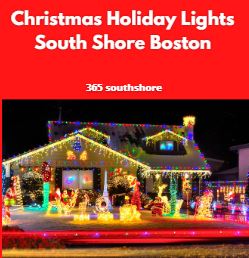 Larger 2022 Drive thru Lights
you will need to get tickets in advance
 Gillette Stadium Holiday Magic of Lights Foxboro  5:00pm
 Marshfield Fair Holiday Lights Display 5:00pm
Mashpee Childrens Museum drive thru light  Fri/Sat Nights
Larger Walk thru Lights
LaSalette Shrine in Attleboro.  open nightly for the 2022 season-still walk thru but please observe social distancing guidelines. FREE
Brewster Gardens Light it up Holiday Lights Free  Opens Saturday December 3rd thru January 1st
Stone Zoo Stoneham Enter a winter wonderland of tree-lined paths lit by thousands of twinkling lights spanning Stone Zoo's 26 acres. Take a sparkling stroll through festively decorated Yukon Creek, home to black bears, Canada lynx, reindeer and arctic foxes. This year, several illuminated large-scale animal lantern displays will light up your winter's night!
Roger Williams Zoo  Providence Bring family and friends to experience Holiday Lights Spectacular – an annual walk-through experience just in time for the holidays. Featuring festive, larger-than-life dazzling displays, this year's event is even bigger and brighter boasting more than 3 ½ million illuminated lights that transform the Zoo into a winter wonderland! Join us and ring in the season nightly from November 25 through January 1, 2023. Bundle up, grab an adult beverage, hot chocolate, or roast some s'mores and stroll through 40 acres of illuminated pathways.
From radiant reindeers to sparkly snowmen, this is a must-see experience this holiday season. And for the little ones, Santa will be at the Spectacular on select Thursday nights in December through Christmas. The visit is free to families who have a same-night ticket for the 5 or 6 pm timeslot only.  Holiday Lights Spectacular is open rain or shine. The experience runs 5:00 – 9:30 pm.
Neighborhood Light Shows
The list is updated for 2022   with some maps!  We will be adding more maps during the season
If you know of a great light display! Please let us know-
Especially on some of the homes that are running music shows-use common sense  here are some rules-people do live in these neighborhoods and you don't want the grinch's to shut them down.
Show Rules To Live By from our friends in Lakeville but good for most
Weather Issues
Help us keep the show running
In order to run this show we need your help,.please follow these rules:
1, Do not block our neighbors driveways or use them to turn around
2. Please don't stop in the middle of the road thus blocking neighbors and others from going past
3. Once you pull to the side of the road, please dim your headlights to parking lights only so everyone can enjoy the show
4. Stay in your car (safety first), keep the radio to a comfortable level inside your car
5. Please stay off the lawn – the show uses many low hanging wires and is a hazard to walking, and you could damage the show
6. Please DO NOT turn around in the middle of the street, a 3 point turn causes traffic problems and is very dangerous.
Abington MA
Abington is LIT!
Abington you have gone above and beyond and the town is truly "LIT" this year!
Here is the location map. Blue pins on the map are homeowners and/or businesses that have sent in their locations (thank you!) Other colored pins are spots that you may also want to check out (from 6 p.m. – 10 p.m.). This map will be updated regularly, so please let us if you are aware of other locations that may be worth checking out.
You can check out the map and list here 
Lake St in Abington   This boasts over 100 wooden figures that are hand made and painted. They also have over 1000 musical lights. Shows play nightly from 6pm to 10pm and you can turn to the radio station 98.1   House is near Island Grove in Abington
Braintree 
The house diagonally across the street from the Braintree Police department is pretty spectacular.
Doris In Braintree. Not set to music but a nice neighborhood with 10 or so houses done up very nice
Morrison St Braintree
Eileen Dr  Braintree 
Bridgewater
Turban road Bridgewater  Off of High St
70 Turner Dr Bridgewater  is up and going. Music plays between 5 and 9. Tune to 88.1 on your radio station.
Agulis Way Neighborhood  off  Vernon St  (route 104)
271 Vernon St Bridgewater 
278 East St Bridgewater
Edrich Rd   House has music to lights turn to 96.7 FM
East Bridgewater
590 N Elm St, W Bridgewater. Tune to 96.5 FM! Christmas light show nightly from 6-10PM. Running from Black Friday through Christmas. Please keep your radio at proper volume out of respect for the neighbors. Turn off headlights if safe to do so.
Easton
266 Turnpike St Easton – 35k lights and 80 inflatables set up for people to walk through. Open 4-8pm until 12/25-
Hanson
Reed Street Hanson !
Woodbrook Lane, Hanson, MA – 75 blow ups and lights synced with music – radio channel 105.3 – mail your letter to Santa – donations to Hanson Food Pantry collected
399 pleasant street Hanson Lots of lights!
16 Woodbrook Ln Hanson
Halifax
25 Furnace St Halifax , light dance to music, should be finished setting them up by  Dec 10
30 Lingan St, Halifax  will be up by Dec 1st
Kingston MA
Indian pond estates in Kingston
Lakeville MA 
Check out Crazy Tech Christmas in Lakeville. It's on Furlong Circle off of Bridle Path in Lakeville . The almost 73k LED lights are programmed to Christmas music, and even Santa is up in the window checking his list!
Tune To: 87.9 FM to Hear the Music
Sunday – Thursday
Shows Start at 4:30 PM and End at 9:30 PM
Friday – Saturday
Shows Start at 4:30 PM and End at 10:00 PM
Show Dates
First show: November 25th, 2022
Last Show: December 31st, 2022
Marshfield MA
148 Webster Ave in Marshfield  It dances to music
Pembroke
Lilah Lane Pembroke Light Show
Will be starting  Saturday    December 3rd. We will be running from dusk to 10pm daily weather permitting. Merry Christmas!!
We have over 30,000 lights set to go with the music plus 48 different blow ups .  We're conveniently located off Route 53 in Pembroke. We have lights on weather permitting every night till the end of the year.    We are open every night until 1/1
Come and see us!   Lights on 4:30 pm / 10:00 pm   Don't forget to look far Santa in the window.   Also check out the Star Wars Tree!    Lilah lane is Taking non perishable donations for the Pembroke Firehouse food pantry  DO NOT GET OUT OF YOUR CAR  THIS IS A DRIVE THRU EVENT
Misty meadow Rd
Ingham  Road   (Rt. 53 to the "round" church, take Misty Meadow to Ingham Way.-up the first week of December) they are not doing lights for 2019
Hillfarm Rd  . The trees along the road are all lit up.
Pratt Farm Lane
Allen St  See the lights Off Route 14  Music with Lights
Plymouth
116 Seaview Dr.  Plymouth
27 Spencer drive Plymouth

Taunton
A  magical display of holiday lights on historic Taunton Green from December 3rd  to January 1st . Visitors can also visit and enjoy the lights display throughout the season. Driving by the display in the car is also a great way to enjoy it! Don't forget to roll down your windows to hear the music.
Weymouth
Tick Tock Lane Weymouth  The residents of Tick Tock Lane do a great job with their holiday lighting! This is just one example.  Right off of Church Street. If you are coming from 7-11 end it will be on your right before the blinking light at Church & Commercial
Biscayne ave and Lily St in Weymouth
West Bridgewater
Slight right onto Union St off  Route 18 in East Bridgewater,  drive 1.4 miles and then turn right onto Orchard St  Orchard Drive in West Bridgewater  there are a bunch of houses with lights but ours will be synced with music that you can listen to in your car.
Whitman MA 
Constitution Circle Whitman   (off of Old Colony Way)  House is  has computerize lights with a Frozen Music theme.