Stoughton Parade of Lights 2018
The Stoughton Parade of Lights will be held on Saturday December 8th 5pm! The parade will begin at Stoughton High to allow for a larger space for people to line up and get on trucks or floats.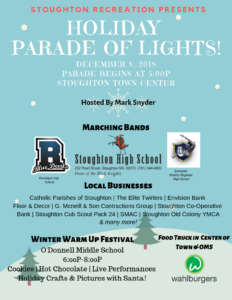 Best place to watch is in the center with our MC Mark Snyder!After marching down Park Street, people in the parade can get off the floats at Howard and Park streets. There will be bands, performances, floats and Santa himself!
Then join us at the O'Donnell Middle School for our Winter Warm Up festival between 6 to  8pm