Free Outdoor Summer Concerts 2022 in West Bridgewater MA
The Town of West Bridgewater is pleased to once again present the 2022 Summer Concert Series! Events will be held on Monday and Tuesday evenings starting at 6:00 pm at the Town Hall Gazebo on Monday nights and the Friendship Park Playground on Tuesday nights.
 Check out our Free and cheap guide to summer fun for the kids over the south shore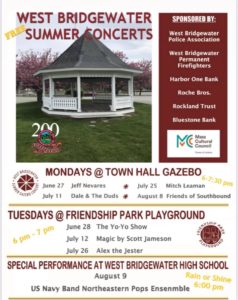 All events are free, thanks to support from the West Bridgewater Cultural Council and our other sponsors!
Monday, June 27, 6:00 – 7:30 pm
Town Hall Gazebo, 65 North Main Street
Jeff Nevaras Band
Jeff Nevaras is a veteran of the New England and National music scene since 1991 Nevaras plays over 250 gigs annually. Additionally, Nevaras has shared the stage with Ricky "King" Russell, Jon Finn, Dave Buda, Lea DeLaria and has toured with Country Hall of Fame Inductee Big Al Downing. Lastly, from 2004-2018 Nevaras was the guitarist/vocalist with First Class Band featuring internationally acclaimed vocalist Concetta
Tuesday, June 28 6:00 – 7:00 pm
at Friendship Park Playground, Howard Street
The Yo-Yo Show
Who would have thought you could make an entire show out of yo-yos? This husband and wife duo bring back that nostalgic toy, reminding you of old favorite tricks such as Walk the Dog and Rock the Baby, then amazing you with new and bizarre tricks, such as Boingy-Boingy and The Human Rollercoaster.
Yo-yos attached to bouncy balls, yo-yos with 10-foot strings, and multiple yo-yos looping while hula hooping and unicycling are just some of their finely tuned feats. High skill and deft timing to swingin' music coupled with high energy and sarcastic humor make the Yo-Yo People a favorite for every age.
As seen on David Letterman, they hold 4 Guinness World Records, a 2008 Yo-Yo World Champion title, and have performed in 26 countries.
Recently they have been seen at the Melbourne Comedy Festival and Tour de Fat!
Monday, July 11, 6:00 – 7:30 pm
at Town Hall Gazebo, 65 North Main Street
Dale & The Duds
The members of Dale and the Duds have been performing together throughout Southeastern Massachusetts and beyond for 40 years. Their blend of classic rock and country is enjoyed by all ages. "A garage band that just won't stop"
Tuesday, July 12, 6:00 – 7:00 pm
at Friendship Park Playground, Howard Street
Magic by Scott Jameson
See the show audiences are calling "Superb!", "A blast!", and "Heartwarming fun for the whole family." Join magician and juggler Scott Jameson for an extraordinary performance that will have you laughing out loud and perched on the very edge of your seat.
Umbrellas will be plucked from thin air, a drawing will come to life, basketballs will be spun and juggled, and the audience will travel through time. Don't miss it!
Monday, July 25 6:00 – 7:30 pm
at Town Hall Gazebo, 65 North Main Street
Mitch Leaman Band
Local rock star, turned one-man band, Mitch Leaman, drives through some of the best rock and roll in the book with his hard-hitting, uplifting style.
Tuesday, July 26, 6:00 – 7:00 pm
at Friendship Park, Howard Street
Alex the Jester
Alex the Jester is a natural for family festivals, art festivals, county fairs and other festive gatherings! He'll bring the alluring magic and colorful costume of a medieval court jester to amaze and delight audiences from the very young to the young at heart.
His wacky one-man show is an extravaganza of visual spectacles, musical capers, daring stunts, mind-bending sight gags and physical feats!
A New England entertainer with a performance that transcends languages and cultures, Alex has captivated audiences around the world.
Monday, August 8, 6:00 – 7:30 pm
Town Hall Gazebo, 65 North Main Street
Friends of Southbound
Tuesday, August 9, 6:00 – 7:30 pm
West Bridgewater High School Football Field
Navy Band Northeast's Pops Ensemble
Navy Band Northeast's Pops Ensemble is the band's largest ensemble, comprised of 30 wind and percussion instrumentalists, specializing in musical styles that range from patriotic favorites, traditional wind band literature, and Broadway showstoppers. Throughout its 11-state area of responsibility, the Pops Ensemble regularly performs for packed performing arts centers as a featured stand-alone concert, while also supporting regional festivals and celebrations, as well as cultural events.
US Navy Band Northeast Ensemble