Free Summer concerts Sunday Nights in Stoughton MA 2022
The Stoughton Lions Club is bringing back their Summer Concert Series in partnership with the Stoughton Recreation Department.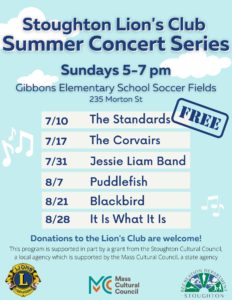 Check out all the cheap summer fun 
Get your toes tapping and your hands clapping…the Stoughton Lions Club Summer concerts are back! They will be held at the Gibbons School soccer field on Sundays from 5-7.
7/10 The Standards
7/17 The Corvairs
7/31 Jessie Liam Band
8/7 Puddlefish
8/21 Blackbird
8/28 It Is What it Is