Hull Youth Football Summer Carnival 2022
The Hull Youth Football Association's annual carnival is scheduled for Wednesday, July 27th   through Sunday, July 31st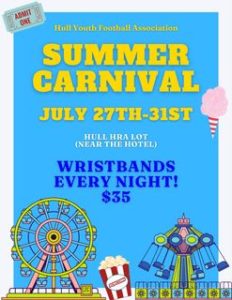 It takes place in the Hull Redevelopment Authority's parking lot, across from the Nantasket Beach Resort, at 45 Hull Shore Drive.
The hours of operation are
Wednesday: 5-10pm
Thursday: 5-10pm
Friday: 5-11pm
Saturday: 5-11pm
Sunday: 5-9:30pm
Hours of Operation
$35 Unlimited Ride Wristbands Daily
WRISTBAND VALID ON DAYBOF PURCHASE ONLY
All persons wanting wristbands must be present at time of purchase
Ride Tickets
$1.50 per ticket
25 tickets for $25
40 tickets for $35
Rides take 3, 4 or 5 each
ALL CHILDREN MUST BE AT LEAST 36" TO RIDE KIDDIE RIDES. SOME RIDES MAY REQUIRE CHILDREN TO BE ACCOMPANIED BY A RESPONSIBLE, PAYING RIDER. ALL RIDES ARE CLEARLY MARKED WITH HEIGHT RESTRICTIONS, PLEASE MEASURE UP. ABSOLUTELY NO EXCEPTIONS.