Rockland Fall Festival & Touch a Truck 2022
Rockland Farmer's Market will be hosting a Fall Festival  & Touch a Truck on Saturday October 1st  from 1pm-5pm.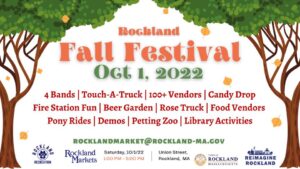 South Shore Fall Fun Guide
Rockland is  coming together as a whole town and having a day to celebrate. Fall Festival will jam pack with activities but to name a few we will have our normal local brewed Barrel House Z in the beer garden joined by Vitamin Sea and hopefully a few other surprises as well as local artisans, vendors, businesses, restoration coffee, BBQ, seafood, food trucks, ice cream, shaved ice, face painter, selfie stations, local musicians, local farms, martial art demonstrations
½ mile of Union St from McKinley to right before School St in the center of town.
The Larger Beer Garden this year includes
90+ Cellars
Players Sports Bar
Brockton Beer Company
Article Fifteen Brewing
BuzzdMeadery
Barrel House Z
Sponsors
Amos A. Phelps & Son Insurance
MountainOne
Sullivan Tire & Auto Service
Clear Water Recovery
Bannon Paving
Polymer Corporation
Bellew Tile and Marble, Inc.
South Shore Tae Kwon Do
A.W. Perry
Auto Clinic and Inspection
12 PM Street Closure – Union Street closes at noon! Any vehicles remaining on Union Street will be towed per the authority of Rockland Ma Police Department.
➡ Lost Child – Go to Rockland Fire Station (360 Union St.) or Rockland Recreation Tent (300 Union St./Uptown's Finest Barbershop). Firefighter or Rockland Recreation Staff Member will call 911 or take them to Rockland Police Headquarters at Doughboy Uniforms.
➡ Porta Potty Locations – Rockland Town Hall Outdoor Plaza (ADA compliant) South Shore Tae Kwon Do, Rockland Memorial Library, Beer Garden (ADA compliant)
➡ ATMs – MountainOne Bank, Rockland Federal Credit Union, Rockland Trust
➡ Beer Garden – LAST CALL at 4:30 PM
➡ 5 PM Union Street Opens – Rockland Police and Highway Departments will start at North Avenue to open for traffic.
❤ Let's work together to make Rockland Fall Festival a great community event. It's going to be a great day to be a dog!