Old Colony Montessori School Open House & Fall Fair 2022 in Hingham
Old Colony Montessori School Open House & Fall Fair will be held on Saturday October 15th  Come tour our school, meet our staff and spend time in our classrooms with your child. Registration is not required. Stay for our Fabulous Fall Fair! Open to all in our local communities! @justthedipma and @nonashomemade will be there with yummy food & treats to purchase!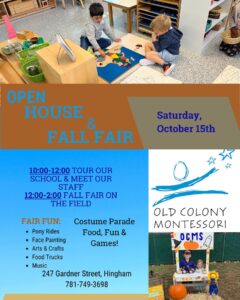 Open Hour 10-12pm
Fall Fair 12-2pm
Pony Rides
Face Painting
Arts & Crafts
Food Trucks
Music
Costume parade Food, Fun & Games
About Old Colony Montessori  
Old Colony Montessori was founded in 1963 in Hingham, MA.
Our Children's House is one of two AMI-certified Montessori schools in all of Massachusetts.
We serve students ages 18 months to 9 years old.
We have one Toddler classroom, three/four Children's House classes and one Elementary class.
Our Toddler classroom is a mix of children ages 18 months – 2.9 years old. Children's House classrooms are a mix of ages 2.9-6, and our Elementary classroom is a mix of grades 1-3.
On average, the school has about 100 students enrolled each year.
Students come from all over the South Shore to attend OCMS: Abington, Braintree, Carver, Cohasset, Hanover, Hingham, Hull, Marshfield, Norwell, Pembroke, Quincy, Rockland, Scituate, Weymouth, and Whitman.
We have many fun family events each year, including our Fall Festival Winter Sing-a-long and Spring May Day Celebration.
We have an organic garden on site that we maintain with support from Holly Hill Farm, and grow a variety of herbs, vegetables and flowers, including kale and sunflowers.
Old Colony Montessori School
247 Gardner St, Hingham, MA,