Mass Reptile Fall Expo 2022 in Hanover MA
The  Mass  Reptile Expo will be held at the Starland in Hanover . from 10  am-4pm on Sunday, November 20th  Whether you are a seasoned keeper or a beginner looking for their first reptile pet! The Massachusetts Reptile Expo is your first choice for reptiles and their supplies.  Admission is $10 Kids 7 and under are free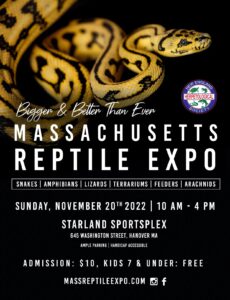 Reptiles, Amphibians, Supplies & More!
100+ tables of dealers, breeders and hobbyists exhibiting and selling a wide variety of colorful and unusual reptiles, amphibians, and invertebrates. Tanks, cages, terrarium supplies, books, and food animals at special show prices.
Animal Education
The New England Herpetological Society brings animals of all sizes as educational ambassadors. These animals are there so everyone can learn, touch, and play to understand these misunderstood and lovable creatures. Usually there are tegus, geckos, tortoises, and a variety of snakes. Great for all ages.
The Photo Booth
Our photo booth has a wide variety of animals to choose from! You can take a photo with some of the educational animals or the even larger animals from Joe's Crazzy Critters! Joe usually brings an alligator and a big Burmese python as well as other critters.
Starland
637 Washington Street Hanover