Rockland Holiday Stroll 2022
The 2022   Rockland Holiday Stroll is scheduled to take place Saturday evening, November 26th  from 4 to 7 p.m. The stroll will take place from the Rockland Library to the Magoun-Biggins Home on Union Street. This is a great Christmas holiday event for the entire family.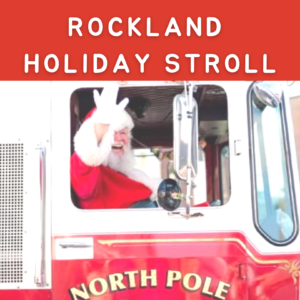 Check out all the Christmas Holiday Fun South Shore Boston 
Each year on the Saturday after Thanksgiving, Rockland community members and businesses come together in the center of town to kickstart the holiday season and spread some holiday cheer! From Rockland's very own North Pole at the Magoun-Biggins home featuring Santa and Mrs. Claus themselves to magical hayrides through the streets of town and Joe's Crazy Critters in Town Hall – there is always plenty of family friendly holiday fun at the Stroll.
Join us as the town of Rockland comes together on Union Street to kickstart the holiday season this year!
We are excited to see everyone at the Stroll this year – we've heard from the Claus' 🎅🏻🤶🏻themselves that they can't wait to come back to Rockland to join us in our celebration and see all of the good people of Rockland once again this year!
Join our Shopping Deals Group  including Local businesses
The annual Rockland Holiday Stroll Raffle Calendar is back! With the chance to win one of 31 incredible prizes this is one you won't want to miss! 📣
Here's how it works:
⛄️ For $10, you can purchase a calendar which is equal to 31 daily raffle tickets
⛄️ There is no limit to how many calendars you can purchase – the more you buy, the more chances you will have to win
⛄️ Enter any time between now and the end of the Rockland Holiday Stroll on Saturday, November 26th and we are giving you ANOTHER FIVE chances to win! By entering prior to the end of the Stroll, you will be entered to win 1 of 5 gift cards including: $25 to Dina's Pizza, $50 to Anita Marie's, 10 Free Subs at Jersey Mike's ($110 Value), $25 to Stop & Shop and $25 to Lucca
⛄️ To enter, please message Rockland Holiday Stroll on Facebook, email us at RocklandHolidayStroll@gmail.com with your name, phone number, email address and number of entries