Kingston Luminary Festivities 2022
The Kingston Luminary Festivities Kingston will be held on Saturday December 17th 2022    from 530-730pm  at  Reed Community Building.  The streets of Kingston come alive with lights, friends and neighbors, and all public buildings open to visitors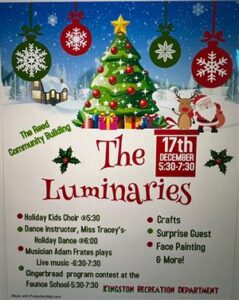 Luminary Lineup:
5:30pm-Holiday Chorus from Kingston Elementary School
6:00pm-Holiday Dance Program with students of Miss Tracey's Dance Program
6:30-7:30pm Adam Frates Acoustic
Santa  will also be a special guest for the kids! HO HO HO
There will clydesdale horses to provide carriage rides from the Beal House.
Get warm with hot chocolate and enjoy some cookies
baked by Silver Lake High School Culinary Department
Hot chocolate and snacks will be provided by and served by Silver Lake High School Band & Choir as a fundraiser for their upcoming trip to Florida.  Donations appreciated.
Help us decorate the giving tree by bringing hats, scarves, mittens, or gloves to hang on the tree.  Items will be donated to Pilgrims Hope, a local family shelter.
Kids can enjoy various craft stations, face painting, and pictures with Santa in the lower hall, 6:00-7:30.
Why local Kingston folks love the luminaries
It's my favorite – like an old-fashioned New England Christmas. One year there was a big snowstorm, and all the kids had a huge snowball fight near the town green.
It's my favorite Christmas event and we do them all lol  … streets closed off walking and seeing friends going in all the churches for cocoa cookies music, arts and crafts the tree lighting with caroling Santa handing out candy canes all the little  trees at the Reed Community center It's so quiet and small townish especially   if there is snow
Parking
Mayflower Church parking lot, or at bottom of Elm st hill at lot there.