Quincy Lunar New Year Festival 2023
The Quincy Asian Resources Lunar New Year Festival will be held on Sunday February 5th 2023 at North Quincy High school from 11-5pm.
Lunar New Year, Chinese Chunjie, Vietnamese Tet, Korean Solnal, Tibetan Losar, also called Spring Festival, is typically celebrated in China and other Asian countries that begins with the first new moon of the lunar calendar and ends on the first full moon of the lunar calendar, 15 days later.
During the momentous holiday, friends and family members gather and wish one another prosperity, good health and longevity in the new year. 2023 brings the Year of the Rabbit, symbolizing hope, prosperity, longevity, and peace.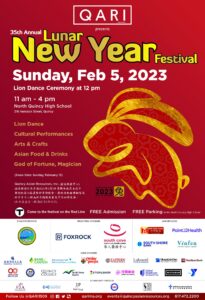 — Fun Activities —
Dragon & Lion Dance
Cultural Performances
Arts & Crafts
Asian Food & Drinks
God of Fortune
Sunday, February 5th | 11AM – 4PM
North Quincy High School, 316 Hancock St, North Quincy, MA 02171
* FREE ADMISSION, and limited FREE PARKING!
* Opening ceremony begins at 12PM