Easter Brunches and Dinners South Shore Boston 2023
Easter  is wonderful time to celebrate family and love. Here are some of the South Shore restaurants  and hotel that will be offering Easter brunch or special Easter dinners on Sunday April  8th .  We will also be including Easter dinners to go as well!
Check out the Easter Egg Hunts and Bunny sightings!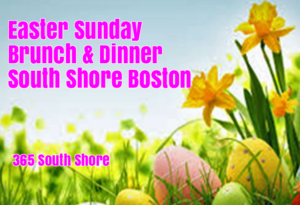 Raffael's at South Shore Country Club & The Greenside Grille Restaurant is now accepting reservations for our Easter Sunday Brunch!  ! With late morning and early afternoon seatings, you are sure to enjoy your Easter celebrations aside friends and family! Call now for reservation availability!
Enjoy a Family Style Brunch with all of your Easter favorites brought directly to you table for you and your family to enjoy!  The  her culinary team have created a great menu of offerings for a delicious Easter Sunday Brunch!
Reservations are available at 11:00AM, 11:30AM, 1:30PM & 2:00PM for parties of all sizes. Call us directly for availability today!
If you're looking for some creative Easter basket ideas,
we've been compiling a list that includes options for all ages here: 
Easter Brunch
One Bistro Easter Brunch 2023
Three Course Prix Fixe Menu
Presented by: Chef de Cuisine Cheyenne Duarte
Adults $46
Children's Three Course Menu $20 (12 & under)
Sunday, April 9, 2023 11am-3pm (last seating at 2pm)
Believe it or not EASTER is just around the corner! 🐰 Make your reservation for our EASTER BRUNCH ~ Sunday, April 9th with seatings at 10 am, 12 noon & 2 pm. Call TODAY~ 617-773-9532.  Easter brunch buffet ~ $34.95 (adult) & $14.95 (children)
Sliced Baked Virginia Ham w/ raisin sauce ~ Carving Station
Sliced Roast Turkey w/ gravy ~ Carving Station
Beef Tenderloin w/ bearnaise sauce – Carving Station
Roast Lamb w/ mint sauce – Carving Station
Salmon w/ ginger orange glaze
Seafood Pasta Alfredo
Mac & Cheese
Baked Stuffed Chicken w/ supreme sauce
Easter Sunday Family Dinner orders at the
B&B The Marketplace MA
begin , March 14!
We have three delicious dinners that serve 6 and up to 12 guests. We are also offering several family appetizers that are perfect for sharing!
For all Easter holiday orders, a credit card must be on file to hold the order. However, you may pay either with the card on file or cash on the day of pick up.
The last day we are accepting holiday orders will be Wednesday, April 5th at 3pm.
On Easter Sunday, doors will be open at 10am at the Marketplace. Pick up orders will start at 11am and will end at 5pm. Doors will officially close at 6pm.
We hope you celebrate Easter Sunday with us at Barrels and Boards
Looking for details for Easter at The Fireside Grille?
Brunch Buffet – 8:30am – 1:00pm
Dinner Buffet – 1:30pm – 5:00pm
Cost – $39.95 Adults, $15.95 for kids under 12, free for kids under 4.
Reservation STRONGLY encouraged
Sample Menu
Scrambled eggs / eggs benny with lobster béarnaise / home fries / bacon / sausage / prime rib hash / sliced ham with pineapple glaze / cinnamon buns with walnut icing / waffles with strawberry and blueberry compote / french toast casserole / mashed potatoes / butternut squash / green beans / Fireside rice / New York strip carving station / shrimp orzo / teriyaki salmon / seafood casserole with Newburg sauce / chicken marsala /prime rib beef stew
Apple crisp / bread pudding/cannoli/sweet street bars/cookies/brownies/éclairs/cheesecake cups/ carrot cake bites/petit 4/strawberry short cake/chocolate fountain
Caesar salad/garden salad/strawberry feta salad/dyed deviled eggs/caprese/charcuterie/strawberry goat cheese crostini/lobster salad phyllo cups/
Same entrees and side offerings from brunch, plus baby carrots/au gratin potatoes/baked mac n cheese/turkey with stuffing, Stuffed shells, shepherd's pie
We'll have a visit from the Easter Bunny from 9am-3pm where you can take photos and say hi!
Advanced reservations required (www.AbingtonAleHouse.com) and special brunch menu only, seen here and on our website under Menu – Special Event Menu
Join us for our delicious brunch and pictures with the Easter Bunny 🐰 We will be open from 9am-4pm
Now Accepting Easter Brunch Reservations. Please call 508-316-0912 to reserve your spot now. We will have three seatings for brunch 10am | 12:30pm | 3pm, Reservations Only!
Easter is approaching quickly!
Let Station Eight take care of the day for you and your family!
This is a reservation only event. Seatings are at 10,11,12 and 1!
Live music by Valerie Barretto Music and the Easter Bunny may be making an appearance!
Easter is less than a month away so don't wait to make your reservations because we will fill up!
Give us a call at 781-837-1027 and make your reservation today.
Restaurants typically create a separate and shorter menu on big holidays because it is easier to execute.
This year however we will be celebrating Easter and the entire weekend with some great food and drink specials as well as our full menu. Yes, we will have our famous house smoked Pit Ham and one or two other Easter goodies, but you will also have the full menu to choose from. A Grilled Tavern Burger or a Barrel Cut Filet it's your choice. What could be better than that??
Don't miss your chance to celebrate Easter With us at Grille 151
Brunch will be served as well as some special chef menu items that will blow you away.
Starting now, make your reservation at Grille 151 for Easter Sunday! We understand Easter is an important time for families and friends to come together, so we offer flexible reservations so you can choose the best time for your gathering. Call today!
Join us for Easter Sunday! We will be offering our Dinner menu from 10:00am – 10:00pm and Brunch Features from 10:00am – 1:30 pm!
::Brunch Features::
Caprese Omelet, Vine Ripened Tomatoes, Asparagus, Fresh Mozzarella $16
Bananas Foster Pancakes, Vermont Maple Syrup $17
Challah French Toast, Nutella, Whipped Mascarpone $18
Davio's Pork Sausage Pizza, Fontina, Arugula, Herb Aioli $19
Filet Mignon Benedict, Poached Eggs, Broccoli Rabe, Popover, Roasted Tomato Hollandaise $32  For reservations please call 781.843.4810
Endless Sunday Brunch 10-1 with a gorgeous water view 🌊
Dinner Menu 1-8
Pasta Specials 4-8
For reservations please call (781)214-9470 or make one online at Open Table.
Need plans for Easter?! 🐰🐣
We've got you covered! Call today to make you Easter Brunch reservations! Regular menu after 1130am
Now taking Easter reservations.
Join us Sunday, April 9
we will be open from 12 to 6 PM.
All of our dinners come with salad and dessert!
to book call 508-455-0464
Call for Easter reservations (774) 678-4233. Full dinner
Easter Brunch seatings start at 9am Easter Bunny will be there  Waffle station,  Honey Baked Ham,  Prime Rib and more
Making plans for Easter, add Home Plate to your schedule. We are now taking reservations for our Easter Brunch. Seating is from   11am-3pm. Book your seats while supplies last.
Easter is right around the corner!
We have seatings at 11:00, 1:00 and 3:00  Call for reservations.  339-933-8300 Entree include corn beef hash to prime rib to brown sugar ham
Easter Sunday, April 9th The Quarry Restaurant will be open from 12:00PM – 5:00PM 🐣 Hop on over to QuarryHingham.com to make your reservation 🗓️ 🐇