South Shore Natural Science Center Norwell MA
Located on 30 acres with a pond, meadows, woodlands and trails, the South Shore Natural  Science Center  in Norwell  is home to the EcoZone interactive museum, Children's Garden, and Nature Center Preschool.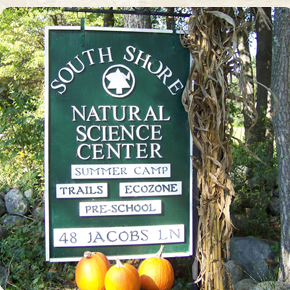 Come meet native animals, hike or snowshoe our trails, enjoy our exhibits and events today!
Nature Center and Summer House on 30 acres
Six Interpretive Nature Trails
Access to 200 Acres of Conservation Land
Outdoor Amphitheater and Picnic Area
Coe's Greenhouse
Interactive Exhibits
Nature's Gift Shop
Restrooms Located in the Nature Center
CURRENTLY, THE SCIENCE CENTER IS NOT OPEN TO THE PUBLIC. WE ARE OPEN FOR CAMP AND PRESCHOOL PROGRAMMING ONLY
Regular Hours: Monday – Saturday, 9:00am – 5:00pm and Sunday, 11:00am-4:00pm
Closed: Memorial Day, July 4th, Labor Day, Thanksgiving, Christmas & New Years Day, Sundays in Summer Months
ADMISSION
South Shore YMCA Members & Science Center Members: Free
Non-Members:
$5.00/Child (2-15 years)
$5.00/Adult, $4.50/Senior Citizen (60+)
Under 2 years – Free
Admission to the EcoZone Museum is FREE for South Shore YMCA and Science Center members
Special Events
The South Shore YMCA will host the annual Corn Festival on Saturday, September 24, and Sunday, September 25, 2022, at the South Shore YMCA Natural Science Center in Norwell.
Popular with families and neighbors across the region, our annual Corn Festival is a two-day family-and-foodie-friendly event that celebrates the natural and cultural traditions surrounding the fall harvest in New England. Enjoy historical interpreters, farm animals, traditional craft demonstrators, live music (oldies, bluegrass, folk, country, and more), crafts, games, music, storytelling, hay rides, pony rides and so much more.
ADMISSION COST:
INDIVIDUAL ADMISSION: $7 per SSYMCA member, $10 per non-member (children under 2 enter for FREE!)
FAMILY ADMISSION: $25 family of four SSYMCA members, $35 family of four non-members (additional family members $5 each)
CONTACT
Contact John Galluzzo at jgalluzzo@ssymca.org to volunteer, participate, sponsor, or learn more about the 45th Annual Corn Festival.
EVENTS, ENTERTAINMENT, FOOD & BEVERAGE
Food & Beverage
Food Trucks
"World Famous" South Shore Y Natural Science Center Corn Chowder
Corn muffins, cornbread, popcorn, corn on the cob
And more!
Entertainment & Partners
Live music all-day
Corn Pit
HEY! Hayrides, Hay Maze, Hay Pyramid
Pony Rides
Big Ryan's Tall Tales Puppet Show
South Shore Wood Turners Association Demonstration
Native American Interpreters
Norwell Grange Demonstration & Tractors
4H Club Demonstrations
Plymouth County Bee-Keepers Association
Morning Pound-Fitness Class at outdoor amphitheater (time TBD)
Pumpkin Decorating
AND MORE!