South Shore Natural Science Center Norwell MA
Located on 30 acres with a pond, meadows, woodlands and trails, the South Shore Natural  Science Center  in Norwell  is home to the EcoZone interactive museum, Children's Garden, and Nature Center Preschool.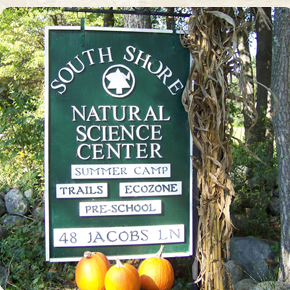 Come meet native animals, hike or snowshoe our trails, enjoy our exhibits and events today!
PLAN A WEEKEND VISIT TO OUR TRAILS
Nature Center located on 30 acres
Six interpretive nature trails
Access to 200 acres of conservation land
Outdoor amphitheater and picnic area
Children's Garden
Rescued animal exhibits
NATURE CENTER PRESCHOOL
Nature Center Preschool at the South Shore YMCA Natural Science Center supports young children's investigations and ignites their passion for learning. By highlighting the interconnectedness of humans with the natural world, we provide a foundation of stewardship, inquiry, and innovative thinking.
NATURE ADVENTURES SUMMER CAMP
Our Nature Adventures Camp is an outdoor recreational summer day camp that offers exciting opportunities for children to learn about the natural world while they explore our 30 acres of woodlands and fields, with rambling nature trails, numerous vernal pools and quick access to Jacobs Pond.
upcoming special events
CRANBERRY DAY IS BACK! Join us for this community event at the South Shore YMCA Natural Science Center to celebrate the 200+ year cultivation of cranberries in Massachusetts. The day will be filled with free cranberry STEAM (Science, Technology, Engineering, Art, and Math) activities for all ages. There will also be a variety of free cranberry taste tests and samples, as well as select local cranberry items available for purchase.
Cranberry Day will be held rain or shine.
DATE: Saturday, November 11, 10:00 AM – 2:00 PM
LOCATION: South Shore YMCA Natural Science Center (48 Jacobs Ln, Norwell)
Free & open to the public, no registration required
CRANBERRY DAY ACTIVITIES
Hands-on cranberry harvest simulations
Cranberry taste tests
Cranberry engineering activities
Cranberry arts & crafts
StoryWalk nature trail
EcoZone exploration & scavenger hunt
Professor Jim's Cranberry Science Lab
Face Painting
AND MORE!
LOCAL VENDORS
Enjoy delicious treats and cranberry samples from the following local vendors at our Cranberry Day celebration.
Shine Mobile Coffee: Coffee, hot chocolate, and cranberry muffins!
Kiss Flower Farm: Jams & Spreads including 4 different locally made cranberry sauces (farmhouse classic, cranberry apple, cranberry orange, & farmhouse spiced with cayenne).
Thyme Traveling Food Truck: Butternut squash soup with dried cranberry and toasted pumpkin seed garnish & other fall delights.