South Shore Natural Science Center Norwell MA
Located on 30 acres with a pond, meadows, woodlands and trails, the South Shore Natural  Science Center  in Norwell  is home to the EcoZone interactive museum, Children's Garden, and Nature Center Preschool.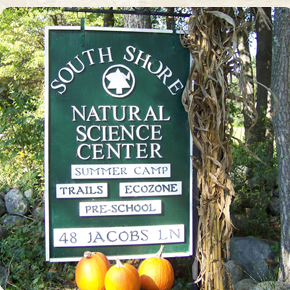 Come meet native animals, hike or snowshoe our trails, enjoy our exhibits and events today!
PLAN A WEEKEND VISIT TO OUR TRAILS
Nature Center located on 30 acres
Six interpretive nature trails
Access to 200 acres of conservation land
Outdoor amphitheater and picnic area
Children's Garden
Rescued animal exhibits
NATURE CENTER PRESCHOOL
Nature Center Preschool at the South Shore YMCA Natural Science Center supports young children's investigations and ignites their passion for learning. By highlighting the interconnectedness of humans with the natural world, we provide a foundation of stewardship, inquiry, and innovative thinking.
NATURE ADVENTURES SUMMER CAMP
Our Nature Adventures Camp is an outdoor recreational summer day camp that offers exciting opportunities for children to learn about the natural world while they explore our 30 acres of woodlands and fields, with rambling nature trails, numerous vernal pools and quick access to Jacobs Pond.
upcoming special events
MAPLE DAY IS BACK!
It's maple season! Join us for this community event at the South Shore YMCA Natural Science Center to celebrate the New England maple sugaring season. The day will be equally educational and delicious – with a tree tapping demonstration, nature walks, kids crafts, live music, maple taste tests, a maple lab, maple food vendors, and more!
This event is free and open to the community, rain or shine. Food & beverage will be available for purchase from local vendors with a sweet maple twist!
EVENTS & ENTERTAINMENT
Tree Tapping Demonstration & Sap Boil
Jim's Maple Lab
Massachusetts South Shore Woodturners
Plymouth County Beekeepers Association
Tap a Tree Nature Walks (11am, 12pm, 1pm) *times subject to change
Climate Investigation & Taste Test: Is the future sweet for Sugar Maple?
Chuck Vermette Band
Kids Maple Crafts
Scavenger Hunt
Maple Music Station
Maple Mud Kitchen
EcoZone exploration
FOOD & BEVERAGE
Mom on the Go, featuring maple bacon grilled cheese
Mrs. Mekler's Mercantile, featuring infused maple syrups & handcrafted treats
LollyJolly Waffles, featuring classic waffles with maple syrup & chicken and waffles with bourbon-infused maple syrup
Sunshine Coffee, featuring Maple coffee drinks, maple sunshine mix, & maple bacon donuts
Maple Sugar Popcorn samples
Pancakes & maple syrup samples
Saturday, Mar 11
10:00 am – 2:00 pm
48 Jacobs Lane, Norwell, MA,