Day 106 Kidsport indoor playground in Stoughton MA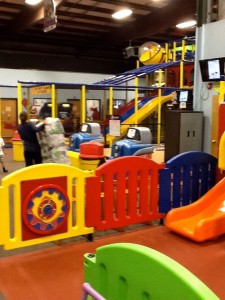 As the weather get cooler, I know the days of outside play are becoming limited. However the little ones need to get their energy out!  Kidsport in Stoughton is to the rescue!
Come and play for an hour, an afternoon, or the whole day! The  indoor playground is open to the public 7 days a week. Our facility includes our A-MAZE-ING Adventure Challenge Indoor Playground, Bowling, *Laser Tag, Inflatables, Plaster Painting and more!
Join us at FRIDAY FAMILY FUN NIGHT,
Every Friday's from 5pm – 8pm. This includes
Unlimited Lazer Tag and Unlimited Bowling
all for one price ($12.50  per child members, $13.50 per child non-members).
Kidsports birthday  parties are fully supervised by trained party staff who will provide your child and their guests with 90 minutes of fun, fitness and adventure! Stay and play in indoor playspace after your party for as long as you like at no additional charge.
All packages include refreshments for the children only. Add on to any party from the list below. Extra pizza and drinks can be ordered for adults staying during the party.
All parties are 90 minutes long, are fully supervised by our dynamic party staff and include:
30 minutes of PRIVATE GYM TIME with organized games and activates!
30 minutes in a PRIVATE PARTY ROOM for yummy refreshments!
30 minutes of PLAY TIME in the A-MAZE-ING Adventure Challenge Indoor Playground!
Stay and play after your party for as long as you want at no additional charge
Check out all the fun at  Kidsports in Stoughton!
57 French St Stoughton MA
Indoor Playground Hours of Operation (Open to the public daily):
Monday through Thursday: 9:00 am to 6:00 pm
Friday: 9:00 am to 9:00 pm
Saturday: 10:30 am to 6:00 pm
Sunday: 12:00 pm to 6:00 pm