Hingham MA Children's Birthday Party Places 2023
The following places in  Hingham  MA specialize in children's birthday parties 

Updated for 2022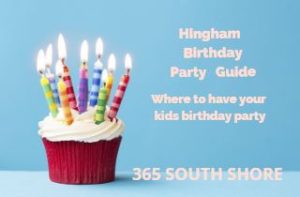 South Shore sports center in Hingham has several options for birthday parties
KIDS WORLD BIRTHDAY PARTIES
For children 8 and under
The South Shore Sports Center would love to host your child's birthday party! Play on a selection of Kids World toys including our popular bouncy houses! Our Kids World birthday party package includes 50 minutes of fun and playtime along with an optional pizza party. Let us do the work so you can enjoy your child's special day!
SPORTS BIRTHDAY PARTIES
For all ages
Hold your birthday party at the South Shore Sports Center! Enjoy 50 minutes of sports fun, followed by delicious pizza upstairs at our welcoming, family-friendly facility. Let us do the work so you can enjoy your child's special day!
Movie ticket to a regularly schedule movie
reserved seats
Kiddie trays popcorn, drink and fun size candy
Use of birthday party room
refillable pitchers for fountain beverages
we provide plates, cups and napkins
a party coordinator to set up and clean up
We'll make your next birthday the best party ever. We will provide dress-up outfits, party favors, a choice of styling — even a special gift for the birthday boy or girl! If you have a special request, just ask one of our Party Planners.
Party availability and Party Packages vary by location. Visit your local Snip-its to book a party.
GLAMOUR PARTY
Fairy tales do come true when you choose our Glamour Party option. Snip-its Party Planners will help each guest get ready for the big ball with special party hairstyles, princess gowns and crowns, and sparkly makeup. Once their makeover is complete, everyone can walk a catwalk that's fit for royalty, posing for all to see!
TRIP TO HOLLYWOOD PARTY
Why just go to a movie when you can host a party where everyone's a movie star? Your guests will be whisked away for a wardrobe change where they will get dressed to impress with a fancy Hollywood outfit, makeup, and hairstyle. Once they're ready for their close-up, they'll make their way down the red carpet, complete with flashing lights and paparazzi!
SPA PARTY
Everybody deserves a little pampering, especially on their birthday. Let our expert Party Planners make this day one in which everyone feels special and looks fantastic. Spa packages can include manicures, pedicures, and facials. It's always a great party when EVERYONE can get in on the fun!
ROCK STAR PARTY
We've set the stage for your rising star to shine! Once your birthday boy or girl and their guests arrive, they can choose fun rock star outfits, hairdos, and makeup. When they're ready to get front and center, the concert begins, and everyone can sing their hearts out with karaoke and dance under our disco lights. This party will be epic!
No drive-by birthday parades here! We have over 5000 sq. feet of space so there's plenty of room to spread out! Grab your kiddo and some friends and let us help you party! Our birthday parties offer plenty of time to climb, run up the warped walls, and play fun games. After all the playing, kids will have time in the party room to celebrate. Our well-trained and knowledgeable staff will be with your party group the entire duration to ensure a great time and ultimate safety. All ages are welcome and no experience is required.
Jamming Party
(7 year old and up)
Includes
90 minutes of climbing, American Ninja Warrior (ANW), and games
30 minutes in the birthday room
Pizza and drinks for the kids (1 pizza per 4 kids)
Dedicated staff in birthday room to assist
Paper goods and utensils
Party set up and clean up
Zip line for all kids
Crimp Party
(5 year old and up)
Includes
60 minutes of climbing, ANW, and games
30 minutes in the birthday room
Bring your own food, paper goods, and utensils
Set up and clean up yourselves
Zip line for birthday kid only
In The Middle
(6 year old and up)
Includes
75 minutes of climbing, ANW, and games
30 minutes in the birthday room
Bring your own food, paper goods, and utensils
Set up and clean up yourselves
Zip line for all kids
Bowling Alley Parties
The lanes have become a favorite destination for birthday parties and has hosted hundreds of parties over the last several years.
Let us become a part of your next celebration!
Our Salon is the perfect place to host a bridal shower, birthday celebration, bachelorette/bachelor party, corporate event or a just a get-together for friends, family, and co-workers.
We have a beautiful and accommodating space, affordable prices to fit everyone's budget, and a large team of technicians to serve your needs so you and your guests can relax and enjoy the party.
Please inquire for details by giving us a call or fill out the form. We will provide many complimentary items such as cake, finger food, drinks & snacks. This is your place for fun, excitement and nail services.
You May Bring Your Own Cake
However, Other Outside Food is Prohibited!
Helmets are Mandatory
No skate rentals available
Payment in full required to reserve date
One week notice required to cancel
Call one week prior with final headcount
Celebrate your child's next birthday with a fun-filled party at Massachusetts Gymnastics Center! Enjoy one full hour of exciting gymnastics activities incorporating obstacle courses, trampoline, bouncy house, parachute, and the foam-filled pit! Our gym can accommodate up to 25 children ages 3 and up. As an added convenience, we have multiple options available to create the party you are looking for:
Deluxe
We Provide
Professional Staff
1 Hour of Gymnastics
1/2 Hour in Party Room
Paper Goods and Utensils
Cake
Hoodsie Cups
Balloons
You Provide
Up to 25 Children
Goodie Bags (optional) get a deal
Basic
We Provide
Professional Staff
1 Hour of Gymnastics
1/2 Hour in Party Room
Balloons (1 balloon for each child)
You Provide
Up to 25 Children
Cake
Ice Cream
Beverages (get a deal on juice boxes)
Goodie Bags (optional)
Are you looking for a location other than Hingham  for a birthday party check out the South Shore birthday party list