Whitman MA summer camps and programs 2023
The following places in Whitman  MA have summer camp and programs
Updated for Summer 2022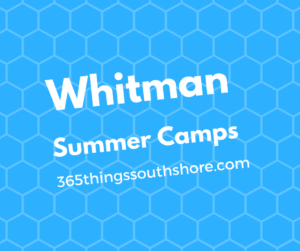 2023
The Summer Park Program will run from July 3rd and continue for 6 weeks ending on August 11th  for lots of fun in the sun and pool! We will offer weekly field trips and a day full of fun and excitement for  5 year olds who have  completed kindergarten through the end of 5th grade!
We are also offering a Counselor In Training Program for children who have completed 8th grade, you can learn to be a camp counselor working with a counselor and enjoy all the benefits of being a camper and a counselor!
available in Whitman & Braintree Location
Programs for the summer begin in June and end the Friday before Labor Day. Children 2.9-9 years of age are welcome. We are open Monday through Friday, from 7:00 a.m. to 6:00 p.m. You may register for specific weeks or the entire summer, upon request you will receive a detailed summer camp packet, registration begins April 1st and continues to June 1st when all applications are final.
Weekly Activities
There are five different groups for camp and children are placed according to age. We have a theme based activity program with daily projects based on the theme for the week.
Part of the program includes arts/crafts, story- telling, singing, games, and dance.
Most of the camp staff are our teaching staff during the school year and are certified for the positions they hold. The older groups have weekly field trips off-site which are listed in the camp sign-up packet.
The Playground
Our large playground areas include, swings, seesaws, climbers, slides, trikes and cozy coupes.
The playground is also used for picnic lunch and snack times.
Sports Time
Older campers enjoy a planned sports activity daily in either the playground or the local park.
Games such as kickball, softball, soccer, tag, capture the flag, etc. are always fun. At the end of camp we use these sports during our Filed Day/Pizza Party activities.
WHITMAN/HANSON SUMMER FUN CLUB  Old Colony YMCA
Old Colony YMCA offers Summer Fun Clubs at most branches and at a school location near you!
The YMCA believes that each child is special, with his or her own personality, talents, and skills.  Our approach to child care reflects the YMCA's core values of caring, honesty, respect, and responsibility, as well as our commitment to building strong kids, strong families, and strong communities.
While participating in our Summer Fun Club program, your child will experience field trips, arts, and crafts, sports, games, themed special events, team building activities, and more….all in a safe, nurturing, developmentally appropriate environment!
Appropriate for children ages 5 to 13, Old Colony YMCA Summer Fun Clubs offer a wonderful way for your child to experience:
Duval Elementary School
60 Regal St,
Whitman, MA 02382
Daria Amara
damara@oldcolonyymca.org
Jun 26, 2023 to Jun 30, 2023
Resendes Soccer Academy and NCAA Division I Bryant University Men's Soccer Staff is offering an EDUCATIONAL, FUN and EXCITING full day camps over the summer! This program is meant for players in grades PRE-K thru 8th grade! This is a great opportunity to continue training and playing soccer during the summer at one of the most FUN, DYNAMIC, and INCLUSIVE soccer camps in New England! All camps are led by a Division I college coaching staff that was recently named 2022 NCAA National Coaching Staff of The Year! Camp is open to players of ALL ability levels from beginners, to moderately skilled, to experienced soccer players. Our staff prides itself on providing an inclusive soccer camp experience for players of all backgrounds and levels! Come join us for a FUN week of soccer!
Who: Boys & Girls, Grades K – 8th
Snack Time Camp: 9:00am – 10:30am
(leave at snack time, can also get dropped off at 8:30am for early drop off)
Half Day Camp: 9:00am – 12:30pm
Full Day Camp: 9:00am – 2:30pm
All camps end at 12:00pm Friday (last day of camp) for all campers
(If your child is unable to be picked up until 3:00pm, a coach will be provided. Please confirm this with a camp director.)
Early Drop Off: 8:30am
(pre-camp, school yard style, monitored by coaches) – *NO ADDITIONAL COST.
waiting for 2023 info
waiting for 2023 info
waiting for 2023 info
The Panther Science Camp has been running for twelve years. Each week runs from Monday through Thursday. Our hours are 9:30 a.m. to 3:00 p.m. and we run most activities right out of room 214, at Whitman-Hanson Regional High School. At the beginning of each week, teams are formed and campers create team names and posters. Each day starts off with lots of interesting science-related demonstrations to get them fired up. It then takes off in many directions. Sometimes we will do team challenges like building the tallest tower out of spaghetti, cups or cards to building the fastest solar powered car. We sometimes undertake individual contests, like a favorite last year, which was to see who could build the quickest homemade paddle boat. Many times we will do laboratory exercises, craft-like projects as well as take nature walks, blast off rockets or solve puzzles. The number of activities is virtually unlimited. The key each day is to keep the projects varied and to keep the pace moving. The word bored is never heard at the Panther Science Camp. Please take a look below at some of the fun things that we have done over the years.
If you are looking for summer camp in other towns besides Whitman     Massachusetts , check out the South  Shore of Boston Summer Camp guide.