Quincy MA Kid's Birthday Party Places 2023
The following places in Quincy   MA specialize in children's birthday parties.  Updated for 2022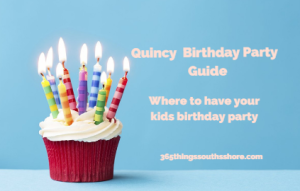 Birthday parties at the Quincy Branch are lots of fun. We offer Tumbling Tot, Super Sports / Gym Games, Arts & Crafts and Pool Party options. Parties are scheduled on weekends only.
All parties are two hours in length. During the first hour there is a specific activity for the children based on the type of party chosen, and during the second hour food is served and presents are opened. Two staff members are provided to entertain the kids
The age range is 7 to 12 for pool parties. Tumbling Tots parties are for ages 2 to 5. Super Sports / Gym Games and Arts & Crafts parties are for ages 5 to 12.
Maximum guest attendance is 20 children. Quincy Branch YMCA staff will run both portions of the party, including the activity time and also the present/clean up portion. Families provide all food and decorations.
Includes:
Choose a theme.
Awesome 80′s
Rock Star
Princess
Hip Hop
Western
Tinker Bell
Fairy Party
Dinosaur
Alice In Wonderland
Or choose your own theme
Includes:
1 ½ hours of birthday fun
Goodie bags
Dance and party games
Invitations for your guests
Set up and clean up
Plates, napkins, silverware, cups
Are you looking for a location other than Quincy  for a kid's birthday party check out the  South shore kids birthday party list