Duxbury summer camps and programs 2023
The following places in Duxbury   MA have summer camp and programs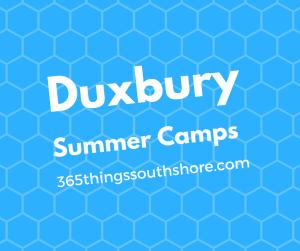 Updated for 2023
Duxbury High School – Camp Invention: Wonder
For children entering grades K – 6
Leader-in-Training spots for grades 7 – 9 may be available.
Price: $320
Location: 71 Alden St
Duxbury, MA 02332
Program Dates: 7/17/2023 – 7/21/2023
Program Times: 8:00 AM – 2:30 PM
Introducing our 2023 program, Wonder!
Give your young innovator an inspiring, action-packed summer adventure! All-new, hands-on challenges will spark their curiosity and build their confidence as they jump into limitless STEM fun with opportunities to imagine, plan, experiment and create. Read more about what your camper will do each day at camp:
PROBLEM SOLVING
Campers explore physics, design engineering and art as they build their own mini skate park, create DIY riders, personalize their mini skateboards and try out challenging features like ramps, bowls, jumps and rails.
CREATIVITY
To create an epic celebration, campers become event planners who engineer light-up party hats, use the science of color to create a bubble art banner and invent a Party Assistant to help bring their plans to life.
PERSISTENCE
Campers transform their own robot into a one-of-a-kind animatronic stuffie, and then use inspiration from nature and the power of intellectual property to protect their creation from an idea-stealing Copy Cat.
ENTREPRENEURSHIP
Ideas pop up as campers launch their own pop-up business, make smart financial decisions, and use entrepreneurship skills and creative strategies to attract customers with the ultimate pop-up event.
South Shore Conservatorys summer programs inspire music, dance and drama students to perfect their skills and meet students from other towns who share the same passion for the arts. Theres something for everyone at the Conservatory over the summer months. Camps including   rock band camp for middle and high school kids, vocal camp and theater arts.
Camp Wing Day Camp provides engaging activities in a variety of program areas for youth aged 5 to 16. With the guidance of our trained and supportive staff, campers explore their interests and build skills through instructional swim lessons, sports and games, team building with peers, archery, creative arts, and adventure activities including climbing, kayaking, canoeing, and ropes courses. Through their experiences at Camp Wing, campers build confidence and self-esteem, while developing their interpersonal and collaboration skills.
Camp Wing Day Camp Program Options
Grove Program
Serving campers who are entering kindergarten at the end of summer, and who are currently in Kindergarten. Campers must be 5 or older by the first day of their session.
Younger campers participate in smaller group activities throughout the day to offer them the additional support and supervision that they might need. Grove campers enjoy specialized activities geared toward kindergarten and first grade age groups.
General Camp
Serving campers completing 1-7 grade.
We offer an exciting variety of activities throughout the day. Our co-ed groups are coordinated by age, so activities can be tailored to meet the needs of all campers. The camp has three divisions: Forest, Ocean, and Jungle. Within the divisions, small groups of campers follow a pre-established, well-rounded daily schedule which offers the opportunity to try a variety of activities during the camp session. There's also a chance each day for campers to select, with guidance from their counselor, a group choice activity period.
Leaders in Training
A leadership program for campers completing 8-10 grade.
The LIT program offers opportunities for teens to develop their leadership skills that can be applied as future staff at Crossroads, and beyond. LIT's will also have the opportunity to shadow and support staff members leading activities in areas such as swim lessons.
Service Corps
For participants completing 10th or 11th grade and who are interested in working at camp (age restrictions apply).
Service Corps members are teens who have demonstrated strong leadership skills as well as a strong desire to work at camp. Campers complete a Crossroads Staff Application and traditional interview process and serve as 'Junior Counselors' throughout the summer. Service Corps are paired with full counselors and work on various activities.
Bay Farm Montessori Academy offers summer programming for children ages 18 months to 4th grade. A rich blend of fun, learning, and relaxation, children enjoy craft-making, field sports, music, dance, swimming, and more — all under the guidance of Bay Farm's dedicated teachers and summer counselors. The summer program nurtures creativity, curiosity, and peaceful exploration of particular themes.
Montessori-Inspired
– Independence, choice, and responsibility carry over into the Bay Farm Summer environment as we continue to inspire children with joy, purpose, and compassion.
– Bay Farm Summer emphasizes peace education and nature. Our structure encourages independence and freedom to move throughout our 9-acre campus.
– Mixed-age groups promote leadership and empathy.
You may recognize this year's Bay Farm Summer themes, but the content and programming is going to blow your socks off this year!
That's because this year, we're inviting subject-matter experts to every single week to provide dedicated, engaging programs and activities to our campers.
While our themed weeks are oriented around specific themes and activities, they aren't specialty camps. Instead, days are built around a core schedule with daily routines with large blocks of schedule dedicated to guest experts who will engage campers in a wide range of theme-specific activities.
Themes outlined below are for our Children's House and Elementary campers. For information about Toddler House themes, check out the Toddler House homepage.
Check out the slate for this year:
MAKE & CREATE
Guest experts Jenny dos Santos and Cameron Golden will provide STEM and Arts/Crafts activities to invite Children's House and Elementary students to explore fun, age-appropriate activities. From Coke/Mentos experiments to pebble painting, this session is sure to please.
Jenny dos Santos is a trained Art Specialist and currently works as a Lead Teacher in our Children's House. Cameron Golden is a Plymouth County 4-H trainer and activity leader with a gift for exciting young minds.
DRAMA, MUSIC & MOVEMENT
Guest expert Rikki Churchill will join us to provide tumbling and gymnastics breakouts in our Great Room to teach your children some of the best ways to move their bodies toward self-expression. As well as being an Assistant Teacher in our Toddler House, Rikki has several years experience providing gymnastics and tumbling to children of all ages.
We are currently in discussion with a second specialist to offer several Performing Arts activities and will update as soon as details are finalized.
SPORTS & FITNESS
Bay Farm Physical Education Specialist Nick Sisoian will engage students in a variety of indoor and outdoor team sports activities including volleyball, badminton, tee-ball / baseball, and more.
We are currently in discussion with a second specialist to offer Sport/Fitness activities and will update as soon as details are finalized.
H20
Guest experts from Duxbury Bay Maritime School will engage students in Children's House and Elementary in age-appropriate aquatic adventures and activities, exploring the importance of our watershed, our natural ocean habitats, the life that inhabits them, and much more.
Our partnership with Duxbury Bay Maritime School has resulted in numerous wonderful after-school activities over the past three years and we're eager to have their specialist instructors join us for Bay Farm Summer.
ON THE FARM
Bay Farm Agriculture Specialist Evelyn Golden will spend the week inviting campers to explore our connections to the natural world around us, through engaging one-of-a-kind activities and on-campus excursions to explore local plant and wildlife.
We are so excited to get started and we have a wonderful slate of guests to ensure that your children have not only a great basecamp for the summer, but that they explore the variety of experiences you've come to expect from a Summer program.
Stay tuned, we're always on the lookout for pop-up activities and will be adding even more to our roster of guest instructors as we get closer to the start of Bay Farm Summer.
We have expanded our offerings from last summer so families can choose full day, half day, and combinations of individual programs. Sailing can now be combined with marine science, powerboating and rowing!  We look forward to getting kids back outside and on the Bay this summer!
Scholarships Available!
Anyone seeking information about financial aid should visit our Scholarship Page.
SPRING & SUMMER PROGRAM UPDATE  2023  will be available on March 1st
33rd Annual Boys Basketball Clinic
For boys going into grades 5 thru 9
Fee: $210
Program held at DHS, DMS & Alden Gyms
June 26th – June 29th / Monday thru Thursday:
8:30am-12 noon
This popular program focuses on drills, games, and fun! All participants receive a t-shirt. Coaching staff includes DHS basketball
coaches Richard Henninger and Mark Brust as well as college and
high school players.
Skills & Will Basketball
For boys and girls going into grades 4-12
Fee: $150
Program held at Alden Gym
Month of July
These programs are designed for working on basketball fundamentals, functional training, and game performance. Structured games
will be a part of each session to allow the player to build upon newly
developed skills. Instructor: BILLY CURLEY, former DHS state
champion, Boston College Hall of Famer, retired NBA veteran, and
current head coach of the boys varsity basketball team at Emerson
College.
Boys: Tues (7/6 (first week only) – 7/25) Girls: Wed (7/5 – 7/26)
Grades 4-5: 4:00-5:15p m Grades 4-5: 4:00-5:15pm
Grades 6-8: 5:15-6:30pm Grades 6-8: 5:15-6:30pm
Grades 9-12: 6:30-8:00pm Grades 9-12: 6:30-8:00pm
Small Ball Basketball
For boys and girls going into grades 1-4
Fee: $175
Program held at DHS gym
July 25th – July 27th T-Th 9am-12noon
Small Ball is a fun introduction to the game of basketball. Children will
participate in drills that will teach them about footwork, passing, dribbling, and shooting in addition to playing games. Instructor: BILLY
CURLEY, former DHS state champion, Boston College Hall of Famer,
retired NBA veteran, and current head coach of the boys varsity basketball team at Emerson College.
Baseball Clinic
For boys and girls ages 7-12
Fee: $125
Program held at the Tarkiln Baseball Field
July 17th – July 20th M-Th 9-11am
Emphasis will be on a combination of skill development and fun. (Tshirt for each participant). Coaching staff includes camp Director Steve
Studley, Recreation Director, as well as college and high school players.
Tennis Clinic
For boys and girls ages 8-14
Fee: $210
Program held at DHS Tennis Courts
June 26th – June 29th Mon – Thurs: 8:30am-12noon
This popular program will once again be offered to kids ages 8-14. Emphasis will be on conditioning, individual ball skills, games and fun!
Coaching staff includes camp director Craig Drilling, Director of Athletics at Brandon Hall School in Atlanta, GA., as well as college and high
school players.
Kids Tennis Lessons
For boys and girls ages 8-14
Fee: $120
Program held at Wadsworth tennis courts
July 11th – August 10th Tuesdays & Thursdays
9-10am: Beginner / 10-11am: Intermediate / 11am-12noon: Advanced
A low key, fun tennis program where children learn the basics of tennis or improve their skills, depending on their ability. Children should
bring their own racquet.
23rd Annual Soccer Clinic
For boys and girls ages 6-10
Fee: $125
Program held at Chandler Soccer field
Dates: June 20th – June 23rd Tuesday thru Friday
9am-11am
This popular program is once again offered for children ages 6-10 and
focuses on skill development and the fun of soccer through drills and
games. Instructor: Richard Hennninge
If you are looking for summer camp in other towns besides Duxbury  Massachusetts , check out the  South  Shore Boston Summer Camp guide.