Moose Hill Wildlife Sanctuary in Sharon MA
Moose Hill Wildlife Sanctuary  is Mass Audubon's oldest sanctuary  located in Sharon MA and one of the largest with nearly 2,000 acres. The 25-mile trail system brings you through diverse habitats: explore the red maple swamp via the boardwalk, observe amphibians at a vernal pool, or watch swallows catching insects in the meadows. Each season brings another opportunity to explore nature's wonders. You can enjoy a winter stroll, watch migrating warblers, or experience the beauty of the fall foliage. The  bird-feeding station and butterfly garden bring wildlife close to the nature center. Art exhibits are shown continually throughout the year in our gallery. The sanctuary also features Moose Hill Community Farm, a community supported agriculture program that provides shareholders with fresh, local produce throughout the growing season.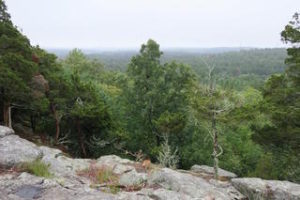 Trails 
Explore 25 miles of trails at Moose Hill Wildlife Sanctuary. Enjoy breathtaking views along the Bluff Trail, especially when the fall foliage is at its peak. The hiking trails take you through forests, fields, and wetlands ideal for birdwatching and spotting wildlife.  Strollers are not recommended and dogs are not allowed.
Billings Loop
This loop takes you through mixed forest, past old farm fields, and through a red maple swamp. You will pass a barn and the sugar shack along the loop. In spring and summer, look for Eastern bluebirds and Tree Swallows around the nest boxes. Autumn turns the swamp a vivid red and in the late winter, you will see sap buckets hanging from sugar maple trees.
Bluff Overlook
This popular walk extends from the fields of Billings Loop to the Bluff Trail and back. Stonewalls crisscross the dense forest. As you walk up the gradual incline, look for the large cistern halfway to this scenic overlook. It is one of the last signs of a former orchard. Plan for a 90-minute hike.
Vernal Pool Trail
Depending on the season, you may see full pools with masses of jelly-like eggs clinging to branches or dwindling pools with frog and salamander tadpoles racing to metamorphose before food and water are gone. The gentle, rolling inclines are the stone-packed remains of rivers that once ran under, in, and over glaciers.
Kettle/Pine/Ovenbird Trails
Connect these three trails for a challenging loop walk along hilly terrain. On this oldest part of the sanctuary, you may find signs of a dam and seasonal stream, an old rhododendron garden, and a kettle hole left behind by part of a melting glacier.
Summit Trail
This short but strenuous walk takes you to the highest point on the sanctuary (534 feet). Shaped by glaciers thousands of years ago, you can still see faint striations in the bedrock that were made by glacier-dragged rocks. At the top of the hill, you will see the Fire Tower, which is owned by the State of Massachusetts and usually locked. Dense forest growth now obscures the view.
Kids will love the nature play area at Moose Hill, otherwise known as Cookie's Garden. It's a safe place where kids of all ages can harness the power of their imaginations while they hop, swing and climb around the sanctuary's natural elements.
Where to walk, hike and get fresh air on the South Shore 
Nature Center/Trail Hours:
Monday-Friday, 9 am-5 pm; Saturday-Sunday, 8:30 am-4:30 pm; Trails open daily, 7 am-4 pm
COVID 19 All Moose Hill trails are open to local visitors; buildings & restrooms remain closed.
Admission
Members & Sharon residents: Free
Nonmembers: $4 Adults, $3 Seniors (65+), $3 Children (2-12)
EBT Participants: Free for up to 4 people when you show your EBT card
ConnectorCare Card to Culture Participants: Free for up to 4 people when you show your ConnectorCare card
Here are some reviews of their trails
Really beautiful walk through a variety of landscapes (e.g. scenic overlooks, meadows, wetlands). Trails were well marked and maintained.

Started on Billings Farm and ended up on Old Pasture, about a 2.5 mile loop.A few trees blocked the trails but easy enough to climb over. Since it's a wildlife sanctuary, no animals allowed.

Just a great trail to explore. Great bluff views. Many other off shoot trails as well.

Yes this was a pleasant hike down wooded paths. Plenty of roots and rocks along the way, so keep your eyes peeled. Some nice overlooks and picture spots. Interesting note: this trail is connected to the Audubon preserve, the first one in our nations history. Or at least, that's what the lady at the Auduban Society house told us 🙂 FYI if you go to the house first, they'll ask you for admission  to do the hike if you are not an Audubon Society member.

Another family hike here, but we tried another trail. It was fantastic although still slightly muddy. We hiked to Bluff Overlook, and it was worth it. The view was fantastic! The trail was a bit rocky and bumpy, but even the little ones were able to handle it. A great place!

I spent two hours hiking the trails here with my husband and three young children (4, 4, 7). It was peaceful and a ton of fun. The trails were still a bit muddy and not always clearly marked, but we would definitely go back to check out the trail we wanted to do, but couldn't find. (We must have taken a wrong turn due to unclear signs) ultimately, it didn't matter. The trails were great and provided lots of exercise. Hills, rocks, mud, and trees down. A beautiful place!
Address:
293 Moose Hill Street
Sharon, MA 02067
781-784-5691
Upcoming Event at Moose Hill Sanctuary
Maple Sugaring Weekend at Moose Hill
Special Event
March 11  & 12
10:00 am-3 pm
For all ages 4 & up
Members:
Adult $12.00, Child $11.00
Nonmembers:
Adult $14.00, Child $13.00
Moose Hill has shared the magic of turning sap into syrup with the community for over 45 years! Join us to experience the sugaring process from tree to table and to learn how sugaring has evolved from Native American to colonial to our own current procedures. This 90-minute outdoor, guided tour includes meeting people portraying characters from the past as they go about their daily tasks, including sugaring. Conclude your tour at our operational sugar house and enjoy a taste of the final product.
Just a quick note about this outdoor guided tour – March weather can be quite variable here in New England. Trails may have snow, ice, slush, mud or be dry. Temperatures can range from below freezing to 60 degrees Fahrenheit. Make sure to plan the proper footwear and outdoor clothing to enjoy your time outside!
Instructions and Directions:
Our Maple Sugaring Weekends are a fundraising event for Moose Hill. Your ticket price provides critical support for our education and conservation programs and is nonrefundable. We run rain, light snow, or shine. Dress for the weather; good boots are a must as trails may be muddy, snowy, slightly icy, or dry. Your email confirmation will have an embedded PDF of additional information about the event. During this event, trails to the boardwalk, bluffs, and fire tower are closed to non-event visitors; however, the rest of our trail system is open for general visitation. We thank you for your support!
Registration is required.
Register now with our secure payment portal.