Nelson Memorial Park and Splash Pad in Plymouth MA
Nelson Memorial Park is a popular destination for many Plymouth residents and visitors with it recently been renovated. . Families with child kids will enjoy the playground and picnic area. There is 5,000-square-foot splash pad at Nelson Park is a refreshing place to cool off  on hot summer days , and features motion and push-button activated jets of water shooting in different directions off a cool rubberized surface. It's fun & easy for kids to figure out how to get the water spraying and  bubbling up, From toddlers to  tweens, the water  spray seems to attract a wide age group.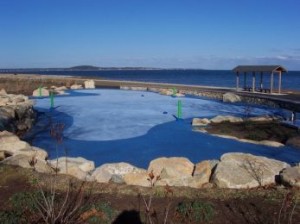 Other features include a new small boat ramp and a bike path that follows the harbor to Hedge Road in North Plymouth Bring a picnic lunch and enjoy  the spectacular ocean view  There is a concession stand nearby with ice cream  treats, basic lunch fare and bathrooms. portion of this land was given in memory of the Nelson family
There is a snack  stand nearby with ice  cream treats, simple lunch fare and the all-important bathrooms.
Nelson's Beach Park
Nelson Street Waterfront area (North end of Water Street)
Plymouth MA