Pick or Cut your Own Christmas Tree Farms South Shore Boston 2023
Looking to cut down your own Christmas tree this year, here is the update for 2023   call the farm or store BEFORE YOU GO to confirm their supply, their hours and whether they have trees, are allowing choose-and-cut or just precut trees; and which attractions or winter activities are available. All of these items  can change during the short Christmas season, due to weather, demand and the farmer's business conditions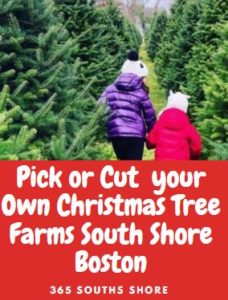 254 Taylor Street | Pembroke, MA 02359
Will be opening up on Friday November 25th
We open the day after Thanksgiving then daily until sold out. Additional hours by appointment. After 4:00 fresh cut trees only.
We are a small three generation family run Christmas Tree Farm. We started planting Christmas Trees in 1976 and planted 3 different shrub varieties as well. We decided to only plant trees so as the shrubs were sold we replanted with Christmas Trees.
We sold our first trees in 1986 and we did it all with just family. Since our first season we have grown and expanded. We now make our own wreaths; round as well as special shaped ones from greens gathered on the farm. We make cemetery boxes and swags and sell bundles of greens for home decorating.
After several years, we opened a Christmas shop where we sell homemade items, gifts and decorations. We added a  sleigh for photo opportunities with the farm dog Buddy. We have also added horses, big and small and even a stubborn pig!
We value our customers and love having you return year after year! We feel very lucky to have been able to watch your children (and puppies) grow up! We now have some of those children returning with their own families, sometimes 3 and 4 generations!
We hope you enjoy looking around our new site and will take a moment to leave us a note or a suggestion, all are welcome. We always enjoy seeing pictures so don't hesitate to send them along. We are looking forward to seeing you this season!
296 Whitman Street/route 106,
East Bridgewater, MA 02333. Phone: (617) 918-3941
OPEN NOV. 19th – 23rd FOR PRECUT ONLY 🌲
OPEN NOV. 25th – DEC. 23rd FOR CHOOSE & CUT/PRECUT 🌲 chose will be until we sell out
Mistletoe Acres is a scenic, eight acre, "cut-your-own" tree farm located near the center of East Bridgewater, MA. We grow a wide selection of evergreen trees to suit your holiday needs!
We welcome you to cut your perfect tree, or one of our friendly staff members will be happy to cut it for you. We also offer small potted trees for those of you who wish to plant a special tree in your yard.
Come browse through our selection of hand-crafted wreaths, garland, centerpieces and Christmas ornaments. We also offer tree stands and preservatives. Don't forget to stop by our holiday shop for complimentary fresh-baked cookies, hot cocoa and spiced apple cider.
special events
Visits With Santa
SATURDAY NOVEMBER 26TH 10AM – 3PM
Come meet Santa Don at Mistletoe Acres Tree Farm! We encourage you to bring your own camera for photos with Santa, free of charge.
SUNDAY DECEMBER 4TH 10AM – 3PM
Come meet Santa Dennis at Mistletoe Acres Tree Farm! We will have a photographer on site taking photos for a small fee. We also encourage you to bring your own camera for photos with Santa, free of charge.
Friday, November 25th​
KC's Curbside Bistro – Food Truck
Holly Sommers – Live Music
​The Maus Stitch – Knitted Goods
Mike Higgins – Chainsaw Wood Carver
Saturday, November 26th​
Mom on the Go – Food Truck
Santa Don – Visit With Santa
​Heather Lynn – Live Music
Wicked Eco – Up Cycled & Reusable Goods
Buddy & Friends – Animal Rescue
Mike Higgins – Chainsaw Wood Carver
Sunday, November 27th​
Lolly Jolly Waffles – Food Truck
Heather Lynn – Live Music
​Holly's Heavenly Creations – Jellies and Jams
Mike Higgins – Chainsaw Wood Carver
Saturday, December 3rd
Flashback Franks – Food Truck
Heather Lynn – Live Music
Wicked Eco – Up Cycled & Reusable Goods
Casa Del Toro – Dried Florals & Event Design
Henshaw Sweets – Cookies & Cocoa Bombs
Mike Higgins – Chainsaw Wood Carver
Sunday, December 4th​
Flashback Franks – Food Truck
​Santa Dennis – Visit With Santa
Holly Sommers – Live Music
Henshaw Sweets – Cookies & Cocoa Bombs
Sydney Craven Memorial Fund – Reindeer Food
​Mike Higgins – Chainsaw Wood Carver
147 Rhode Island Road, Lakeville, MA 02347. Phone: 508-947-6712
open Saturday November 25th  for the 2023 season
2023 Christmas Tree Farm Hours
Fri. 12 to 5 Sat. & Sun 10 to 5
FREE Hot Chocolate and Hot Coffee in the greenhouse on the weekends.  Drink something warm while you brose or while the outside crew prepares your tree for travel.  We shake dead needles out of the tree on our shaker so your children can " Watch their tree Dance".  We run every tree through a bailer putting a net over the tree making it easier for you to bring it into the house.  The tree is tagged at the top with your name so if you are getting multiple trees there will be no mistake which home gets what tree.  The outside crew will be happy to help you or carry your tree to your vehicle.   In fact we will be happy to tie the tree to your vehicle for FREE but you may have to be patient if we are busy.
Route 123 / Neal Gate Street
Scituate, MA 02066
(Scituate/Norwell town border)
Answering machine: (781) 545-7750
We hope to see you at the start of Christmas tree season, starting Thanksgiving weekend.  Hours of Operation
Cutting will start Saturday, November 25th 2023  and will continue on Saturdays and Sundays until this year's crop is sold. Most trees are 8 ft or less, we have have some trees of 9 ft, not many are taller than that.
Hours: We'll be open from 9:30 am to 3:30 pm.
Price: (to be determined) per foot. Some trees are on sale, ask us which ones.
We can only accept cash or personal checks. Sorry, no Credit Cards, no VenMo.
Last-minute information: Please call our answering machine before you come to hear the latest news: 781-545-7750, or check us here on-line.
Delivery: Ask us! The charge is surprisingly small.
Suggestion: Pick-up trucks are easier on you and on the tree.
On our farm we grow Balsam Fir, Frasier Fir, Canaan Fir, White Spruce (see below).
Enjoy a walk in the countryside.
While getting healthy exercise, try to find The Perfect Tree.
120 Granite St., Foxborough, MA 02035
We are a small, family-run Christmas Tree farm located in Foxboro, MA. The Lewicke family has lived in Foxboro since 1972. We planted our first tree in 1980, and sold our first tree in 1988. We hope that you and your family enjoy your time at Indian Rock Farm
Reservations Now Open for November 25th, 26th (Saturday, Sunday)
109 Elm st Canton MA
Opens the day after Thanksgiving 9-4pm
A Holiday Tradition!
Each Christmas season we invite you to join us at the barn and in the fields to pick out your perfect Christmas tree, while you sip hot cocoa and take in the brisk New England air. We offer Choose & Cut trees, as well as Freshly Cut trees, wreaths, roping, and other holiday decorations.
"CHOOSE & CUT" TREES
We grow our Choose & Cut Christmas Trees right here on several acres of our farm in Canton, Massachusetts. Each of these trees is nurtured for over eight years before it is tall enough to sell. We have a number of varieties: Balsam Fir, Fraser Fir, Concolor Fir, Blue Spruce, White Spruce and Norway Spruce. We sell a limited number of these Choose & Cut trees each Christmas season.
137 Wood Street, Halifax, Massachusetts 02338
781-254-6958
Tree Season this year begins Friday, November 24th at 9:00 a.m.
Our family cordially invites you and your family for a traditional New England Christmas experience. Meander the property to find the picture perfect tree. Take pictures yourself or employee the services of our professional Photographers at the various photography locations – including the '57 Red Chevy Pick Up, The Sleigh, and more. For the final touches of your experience, visit The Shoppe for our farm made Evergreen Wreaths, bespoke greens arrangements, and locally crafted Christmas décor. 
Situated on 30-acres of land The Farm at Raven Brook specializes in Christmas Tree services and offer year-round experiences for the entire family.
Thank you for letting our family be part of your family Christmas Traditions.
New Christmas tree farm in Kingston
We are open weekends  November 24th-26th, December 2nd-3rd, and December 9th-10th🎄🎄!! Open from 8:30am-4:30pm! ⏰
We range from all fun activities from Goat Petting 🐐, Food Trucks 🛻 , Brewery 44 🍻, Face Painting 🎨, S'mores by the fire 🔥, Win a Tree or a T-shirt Golf shot⛳️🏌️‍♀️🏌️and our brand new Smash The Grinch 🎾 game that you can play when you ride our Haywagon! Be sure to come by and enjoy in the fun and make great family memories! 📸 We are so excited to see everyone!
Schatten Berg Tree Farm Plympton
2023 Christmas Tree Farm Hrs
Open Fri 11/24, Sat 11/25, Sun 11/26 & December 4th & 5th Hours: 9am-4pm