North Star Pro Rodeo 2015 at Marshfield Fairgrounds
The North Star Pro Rodeo will be held Saturday  June 27th and Sunday June 28th at the Marshfield Fairgrounds.  This is a great family friendly event.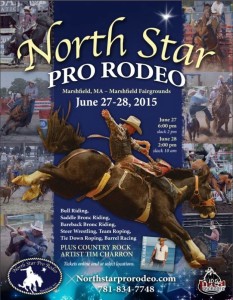 North Star Pro Rodeo is a professional rodeo sanctioned by the PRCA (Professional Rodeo Cowboy Association). They  will be hosting 7 professional events; Bareback and Saddle Bronc Riding, Bull Riding, Team Roping, Tie Down Calf Roping, Steer wrestling and Barrel racing. The Rodeo will be a complete production including feature acts and rodeo clowns! We will also have events including Team Penning, Pony Rides and many kids events. C. Kids 8 and under are FREE!!!
Saturday – Gates open at 12:30pm, Music at 4:30 – Tim Charron
Sunday – Gates open at 8:30 am, Music at 12:30pm – Tim Charron
SCHEDULE OF EVENTS
SATURDAY – Gates open- 12:30
Team Penning at 12:30
Slack* starts at 2:00
Country Music Performer – 4/4:30- 5:40
** RODEO SHOW 6:00 **
SUNDAY – Gates open 8:00am
Team Penning at 8:00
Slack* starts at 10:00am
Country Music Performer – 12/12:30- 1:40
** RODEO SHOW 2:00 **
TICKETS
KIDS 8 and UNDER are FREE!!
Tickets are available on EventBrite online until the day before the show.
https://www.eventbrite.com/e/north-star-pro-rodeo-tickets-15084527227
Tickets are now available at the following locations, $15/ticket, kids under 8 FREE
**Family Pet and Garden Center, Pembroke (rt 53)
**O'Brien's Car Care, 157 First Parish Rd, Scituate Ma.
**The UPS Store, 182 Summer St., Kingston Ma.
and
**Weymouth Honda, Weymouth Ma., Ask for Carl
Call 781-834-7748 for more locations or information
Tickets are available the day of the show at the gate.
Presale- $16.82/day (including processing fees)
At The Gate- $18.00/day
PARKING IS FREE
KIDS 8 AND UNDER ARE FREE !!!