Sky Zone Indoor Trampoline Park in Kingston MA
Sky Zone Kingston is t the Kingston Collection Mall.  Sky Zone is the world's first indoor trampoline park. We're the makers of trampolines as far as the eye can see and give you physical activity combined with awesome, healthy fun. Experience WOW – the weightlessness of bouncing, flipping and landing in a pit filled with 10,000 foam cubes.
We are dedicated to providing you with the pure joy that comes with flying. We are sky lovers, thrill seekers and people who believe that jumping is freedom. We believe physical activity can be fun and play can be smart. We are healthy and bursting with energy. We fly high and keep it safe. We are Sky Zone.
Sky Zone Kingston offers great activities such as Freestyle Jump, a SkySlam basketball court, GLOW (all ages), Ultimate Dodgeball, a Foam Zone, and a Toddler Court for kids walking to 4 years old. We also offer a full schedule of Toddler Time, a special abilities low-sensory jump, and more. Get updates by following us on Facebook and Instagram. See you soon!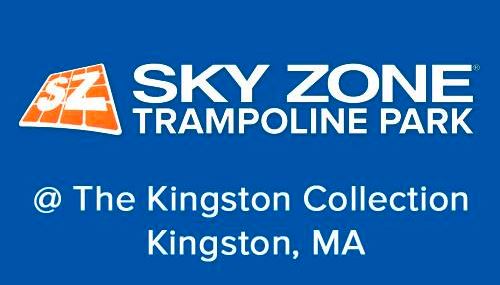 Currently Open for Private Play sessions only 
Attention Jumpers: Starting today we have been granted approval by the board of health to continue on with private events such as our NEW Private Play Experience and Birthday Parties.
What does this mean for Sky Zone?
With the town of Kingston still "in the red" we will not be open for Freestyle Jump until the town is re-classified as a low risk community for 3-consecutive weeks.
We are grateful to keep the jump alive with our Private Play Experience for small groups and birthday parties every day! Private Play is a unique experience for friends & family that want to stay apart and have fun together! Your squad will get 90 minutes of jumping, a personal group facilitator, and the ENTIRE park to yourselves! Upon arrival, each group will have a contactless check-in and temperature checks. After every reservation, we will continue our high-level cleaning procedures.
We're appreciative to offer these new experiences – please call us at (781)514-7595 for more information or click here to learn more:
https://bit.ly/3jAebZh
OPEN JUMP
Open jump lets you fly high! That means full access to all Sky Zone activities, including the Main Court (free jump), the Foam Zone (freestyle jumping into foam), Ultimate Dodgeball, SkySlam, and more! Open jump is available during normal operating hours. All ages are welcome, and a Sky Zone Kingston liability waiver is required for each jumper (those under 18 must have their waiver signed by their parent or legal guardian). Weekends can get busy, so book your spot online and fill out a waiver in advance.
Please note that we separate jumpers by age for safety reasons: Our age groups are as follows:Â Group A: Ages 0-4; Group B: Ages 5-10; Group C: Ages 11-15; Group D: Ages 16+
TODDLER TIME
Toddler Time gives jumpers 4 and under access to our massive Main Court. Let them have a blast jumping on our trampolines and rediscover the joys of naptime!
Now Monday through Friday!!
ULTIMATE DODGEBALL
Combine regular dodgeball with Sky Zone's patented wall-to-wall trampolines and get the world's most awesome sport: Ultimate Dodgeball. You can only find Ultimate Dodgeball at Sky Zone, and pick-up games are held daily (when courts are available).
FOAM ZONE
Experience true freedom in our Foam Zone! Jump, fly and flip from a trampoline runway into a pit filled with 10,000 foam cubes. There's no better way to experience the pure joy of weightlessness.
SKY SLAM

Dunk like a pro with trampoline runways that bounce you high in the air. You don't need to be in the NBA to love SkySlam. Work your dunk swag in front of all your friends! Sky Zone Kingston features three hoops of varying heights so everyone can get in on the action!
Birthday Party at SkyZone Kingston
Take your next party to the SKY! Sky Zone Kingston offers several inclusive packages to make your party soar!
All Packages Include:
* One hour of jump time
* 40 minutes in a private party room after jump time
* Access to Foam Zone & SkySlam
* Your own Sky Zone party host
* Access to online Evite system
* Full color invitations and envelopes available for pick up
* Party plates & candles
* Sky Zone t-shirt & free 60-minute  passes for the guest of honor
* Party area set-up & clean-up
* One juice per jumper & unlimited water for jumpers in party room