10 plus Farms & Zoos to Visit Animals South Shore Boston MA 2023
Kids love to get up and personal with animals! Luckily the South Shore  Boston area has plenty of places zoos,  farms and homesteads  to visit.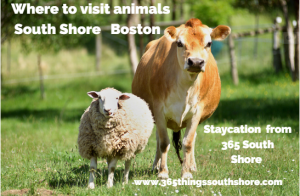 74 Obery St Plymouth
FREE For more than 100 years, the Sheriff of Plymouth County has operated a farm on Obery Street. Though times have changed, the farm is still a vibrant, full-time agricultural resource. Bring your family to visit this free Petting Zoo, pack a picnic and shop at the year-round Horticultural Center!   Kids can see goats, sheep, cows and pigs Open 8am – 2pm |
140 Turkey Lane  Hingham, MA
Sign up to see the animals
Barnyard stories come alive when you get to meet the main characters! Bring your preschooler down to the farm for our version of story time. The barn opens to the public at 10:00am and story will be read at 10:45.  Acceptable for infant – 8 year old children. $5.00 per person
Join us for the chance to get an up-close look at the animals that call Weir River Farm home! No need to pre-register, just come on down to the farm! $10 family
246 Prospect Street, Norwell, MA 02061
Come in for an ice cream and see the cows
325 South St.  East Bridgewater, MA   02333
Come visit the many animals that live on our farm.  Check out the baby goats, horse, chickens, sheep and bunnies. Â Grab some apple cider and donut in their store to make the visit perfect
236 Jerusalem Road  Cohasset MA 02025
The barnyard is home to our pony Pumpkin, his friend Nugget, hens, roosters, Pepper the rabbit, and Dwarf Algerian goats Belladonna and Lady Liberty  Visitors are welcome but please don't  feed the animals.
59 Grove Street – Scituate
Are you hoping to spend some relaxing, quality time with your children and family this Summer? Dalby Farm is currently offering private and semi private farm encounters
Crescent Ridge Farm Sharon
355 Bay Road Sharon, MA 02067
Come in for an ice cream and see the cows  grazing over the 42 acres
500 Columbian Street  South Weymouth, MA 02190

The New England Wildlife Center is an informal hands-on science education organization that uses the activities of veterinary medical care and rehabilitation of wildlife like raccoons, reptiles, and birds of prey, and the veterinary care of exotic pets like snakes, lizards, and turtles as a vehicle for learning by elementary, middle school, high school and undergraduate students.   The Center, located in a green, sustainable facility known as the Thomas E. Curtis Wildlife Hospital and Education Facility, is in Weymouth, Massachusetts.
1904 Canton Ave  Milton, MA
Blue Hills Trailside Museum is the interpretive center for the state-owned Blue Hills Reservation and features a natural history museum and outdoor wildlife exhibits. The animals on display, including snowy owls and a river otter, have been rescued and would not survive in the wild
 307 Main Street, N.Easton, MA 02356
. Sheep Pasture is free and open to the public, seven days a week, from dawn to dusk (exact times are seasonally variable).  There is no fee to visit Sheep Pasture or walk our trails.
201 County St, Attleboro, MA 02703
Exhibits include North and South American, Asian, African, and Australian animals such as agouti, emu, green tree python, kangaroo, lemur, lion, white lion, meerkats, owls, sloth bear, and Amur leopard.[7]
The zoo includes a nocturnal building, where day and night are reversed so that visitors can see the nocturnal animals, and an indoor rainforest exhibit with porcupine, fruit bats, a three-toed sloth, and many birds
425 Hawthorn Street  New Bedford, MA 02740
The zoo houses over 200 animal species from around the world. Exhibits feature animals from the barnyard as well as the wild.
North America East : This section contains black bears, river otters, beavers, turkey buzzards, bald eagles, and coyotes.
North America West  This section contains bison, cougars, Canadian lynx, bobcat, and crows.
Aquatics: This section contains harbor seal, shorebirds, a salt marsh, a kettlepond, a mountain stream, amphibians, snakes, and turtles.
Elephants: This section contains the zoo's two Asian elephants.
Domestics: This section contains horses, cows, sheep, goats, pigs, and an area for pony rides.
2 Southwick St, Mendon, MA 01756
Southwick's Zoo has over 115 species, so there are numerous exhibits including capybaras, two-toed sloths, Brazilian tapirs, white rhinos, an American alligator, and more.
A petting zoo, pony rides, and camel rides are available at the zoo. A play area for children is also available, with play structures made from recycled materials.
FREE  The zoo features a wide variety of animals including horses, donkeys, llamas, pot bellied pigs, goats and deer. Children are encouraged to feed these animals either apples or carrots. Peacocks roam the grounds freely. One of the most memorable areas in the park is "Julia's Garden," installed by the Cekala family in honor of their daughter Julia who died several years ago. It has trails, beautiful landscaping, a unicorn statue and benches among other amenities.
Winslow Farm is a non-profit organization and animal sanctuary devoted to the rescue, rehabilitation, and care of mistreated and abandoned animals.  Open Friday & Saturday 12-3pm
Entry Cost: $20 aged 12+, $ 10 aged 3 – 11
123 Dolan Circle East Taunton, MA
Open Thursday – Sunday 12pm-6pm  Free to visit they do have a small food truck there for some family treats. There are cows, horses that you can visit for free.
Willis circle  Middleboro
family oriented, mama-owned and run and fun for everyone! Ponies, minis, goats, donkeys, chickens, turkeys, rabbits, dogs and cats.  There are tons of programs!  Reach out for hours