Lakeville Early Childhood Fair and Family Day 2017
The  Freetown-Lakeville-Berkley CFCE is hosting an early childhood fair/family fun day on Saturday  April 29th from 10-1pm  Loon Pond Lodge at Ted Williams Camp in Lakeville MA.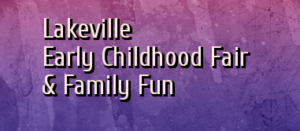 The   goal is to offer families information and ideas to raise happy, healthy children who enter school prepared to succeed. As a valued part of the early childhood community we want to invite you to be a part of this fun day. This is a great opportunity for you to show case your program by offer a learning activity that parents and children can enjoy together. You can be based on a favorite child's book or a popular STEAM (science, technology, engineering, arts, math) activity.  Big Ryan's Tall Tales will be there to entertain, there will be snacks, and door prizes. And it's all FREE!
Loon Pond Lodge at Ted Williams Camp
28 Precinct St Lakeville, MA 02347