Boston Timeshares: The Perfect Accommodations for Family Staycations
Looking to get away without the hefty price tag and stress of booking flights and other travel hassles? A staycation could be just what you need! And as a resident of the South Shore, you don't have to go far to experience luxury at its finest with a Boston timeshare. Of course, you've probably spent a good deal of time in Boston–but that makes things even better! You'll already know exactly where your family's favorite attractions, restaurants, and shops are and with the prime locations of these high-end vacation accommodations, you'll be just a stone's throw away.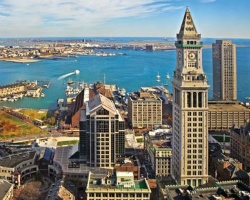 One of the most popular Boston timeshare resorts is Marriott Custom House, which has recently been rebranded to the Marriott Vacation Club Pulse at Custom House Boston. Marriott is a hospitality brand known for its impeccable, yet comfortable accommodations, and this Boston timeshare resort is certainly no exception. Upgrade your staycation by enjoying all the comforts of home (and then some!) in your timeshare suite. The resort offers stunning one-bedroom villas with a kitchenette, dining space, cozy living area, a king bed with plush bedding, a marble bathroom, and breathtaking views of the city.
Beyond the homey accommodations, your family will love the prime location of Marriott Custom House. Right in the heart of Boston, you can easily access the famed Faneuil Hall and TD Garden. Faneuil Hall is a dream spot for those who love shopping and dining, with virtually endless food options and a wide variety of stores and boutiques. You'll also love checking out Celtics and Bruins games during your getaway…all without having to make the commute back to the South Shore.
With so much to do and see, it's no surprise that many families want to enjoy a Boston staycation year after year. This can be done affordably when you buy a timeshare on the secondary market. With a Boston timeshare resale, you can save thousands off retail and score a lifetime of low-cost family getaways. Online reseller, SellMyTimeshareNow, is where you can find these desirable timeshare resales as well as Boston timeshare rentals–the perfect solution for an incredibly affordable one-time Boston vacation experience. Conveniences, luxury amenities, and low prices make a Boston timeshare vacation a no-brainer and SellMyTimeshareNow is the best place to find significant discounts.