Weekend Trip to Mystic CT
Mystic is a beautiful   Connecticut coastal town that is historic, charming, that is an easy visit from South Shore  Boston area.   It is about a 90 minute drive and 90 miles from Braintree.    You can do a day trip or spend a whole weekend exploring.
Step on the deck of the Charles Morgan, the last of the American mighty whaling fleet, check out what lives in the waters around Mystic at the Mystic Aquarium, have a look at the workings of the Mystic River drawbridge, explore native flora and fauna at the Denison Pequotsepos Nature Center, and admire the works by local artists at the Mystic Art Center.
Mystic Aquarium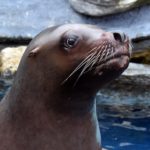 Journey into the aquatic world at this combination tourist attraction and research facility, where every underwater creature is more amazing than the last. Exhibits put you in close proximity to whales, penguins, sea lions and a 30,000-gallon tank, where exotic fish from around the world strut their stuff.
Mystic Seaport Museum
Mystic Seaport Museum is the nation's leading maritime museum. Founded in 1929, the Museum is home to four National Historic Landmark vessels, including the Charles W. Morgan, America's oldest commercial ship and the last wooden whaleship in the world. 
Don't miss the remarkable Charles W. Morgan, a square-rigged whaling vessel that's the oldest American commercial ship still afloat (only the USS Constitution is older). Staff and historians are on hand throughout Mystic Seaport to answer questions and help bring America's maritime history to life. Visit a cooperage, ship-smith, print shop, and a ship carver's workshop, where you can learn about daily work in a 19th-century coastal town. Even Mystic Seaport's gardens tell a story about 19th-century America, with a pair
Olde Mistick Village
This recreated 18th-century New England village offers a refreshing change from shopping malls as we know them. Browse or buy in the more than 60 small shops or dine in one of this charming setting's many eateries.