5 plus things to do in the Rockport MA North Shore Town 2023
Thank you to local  New England  travel  blogger Jess Litras  for allowing us to share her  mini vacation guide to the North Shore Coastal town of Rockport MA.   Head up to Rockport  whether for a day trip or a weekend, its less than 90 minutes from the South Shore.  Its fun place to add your local travel bucket list!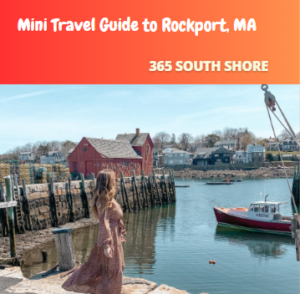 Mini Travel Guide to Rockport, MA 🦞🌊⚓️
This quaint, coastal town is a must-visit on the north shore of Boston. I'm pretty much obsessed with all towns on the north shore and there's a reason for that. They encompass the charm and quintessential vibe of New England in all seasons.
Things to Do:
🚶🏻‍♀️Walk the downtown area
🖼 Check out the art galleries
🐋 Go whale watching
🔴 Check our Motif #1 (pictured here)
🌊 Visit Front Beach
🥾 Hike at Halibut Point
🛶 Go Kayaking
Where to Eat:
🍩 Brother's Brew Coffee Shop for donuts & iced coffee @brothersbrewcoffeeshop
🦞 Roy Moore Lobster Co. for boiled lobsters (opens in May) @roymoorelobster
🐟 Roy Moore's Fish Shack Restaurant & bar for lobster rolls and other seafood (bar is also open later than most places in town)
🍸 Feather & Wedge for appetizers and cocktails @featherandwedge
🍽 My Place by The Sea for upscale dining and waterfront views @myplacebythesea
🍦The Ice Cream Store for dessert!
Where to stay:
🏨 Addison Choate @addisonchoate – A B&B boutique hotel offer a coastal eclectic setting with thoughtful amenities including private marble baths, plush towels, bathrobes and more for a taste of coastal luxury.
🏨 Sally Webster Inn @sallywebstercollection – A B&B boutique hotel offering a modern, stylish take on and antique 1832 colonial New England home with self check-in and an intimate setting.
Also fun fact; this is where they shot the movie The Proposal with Sandra Bullock & Ryan Reynolds! Makes sense, because Alaska is another favorite destination of mine. Many similarities ✨
 

View this post on Instagram

 
Save this for your trip to Rockport ✔️
Make sure you follow   Jess Liras   She will up your travel game in Boston, New England and Beyond!
Get New England Travel Inspiration beyond the South Shore Boston