SSCM Hanover Touch a Truck 2023
The South Shore Children's Museum will be hosting a touch a truck on Sunday April 30th 2-5pm in the parking lot of Pet Smart in Hanover MA.
Hanover Summer Camps & Programs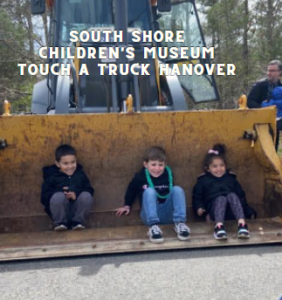 Touch-A-Truck events allow children and their families to get up close to, and climb on, sit in, and explore large and exciting vehicles, children of all ages, love to see
Pre-register for ice cream ticket. $10 per child. Paw Patrol welcomes you to a fun afternoon of trucks and children's concerts and magic shows and an animal touch center oh my!
Face painting and bouncy houses are also included
Hanover Police Department will not only bring a cruiser to Touch a Truck but will also bring their rockstar, golden Lab and sweetie pie Lainey the police dog to say hello.
Glynn Tree Experts is bringing their special bucket truck to Touch a Truck!
Pet Smart
1207 Washington Street Hanover, MA 02341