Abington Autism Awareness Touch-a-Truck 2023
The Abington Police Department has partnered up with the Abington Fire Department and the Highway Department to host The First Annual Autism Awareness Touch-a-Truck event on Sunday May21st  from 11am to 1pm at Beaver Brook Elementary   School.
Abington summer camps & programs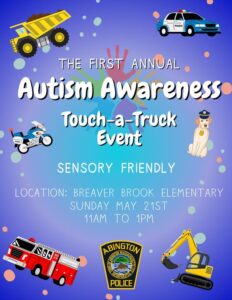 Touch-A-Truck events allow children and their families to get up close to, and climb on, sit in, and explore large and exciting vehicles, children of all ages, love to see
This event includes:
-Touch a truck– police cruisers, motorcycles and AFD Fire trucks, and more!
-Meet with Police officers and Fire personnel to familiarize children with emergency responders.
This event will be sensory-friendly, meaning no lights or sirens will be activated.
This event is an opportunity to bring the community together, under a non-stressful circumstance so individuals with Autism can meet first responders, build relations and enjoy the day.
Beaver Brook Elementary. One Ralph G. Hamlin, Jr. Lane, Abington, MA 02351.