Abington MA summer camps and programs 2023
The following places in Abington MA have summer camp and programs
Updated for Summer 2023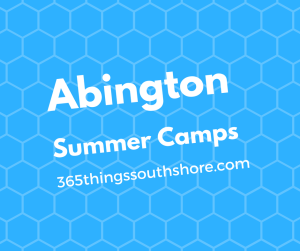 The Eager Beaver Program is designed to provide a wide range of recreational experiences for the youth of Abington at a minimum cost. Each two-week session provides various activities that will culminate on the second Friday of each session, so in essence each session will be somewhat different than the others.
The Eager Beaver Program will be based at Island Grove, but will utilize many of the various facilities around the town, in order to provide a broad scope of experiences.
Woodsdale Elementary School – Camp Invention: Wonder
For children entering grades K – 6
Leader-in-Training spots for grades 7 – 9 may be available.
Price: $285
Location: 120 Chestnut Street
Abington, MA 02351
Program Dates: 7/24/2023 – 7/28/2023
Program Times: 8:30 AM – 3:00 PM
Introducing our 2023 program, Wonder!
Give your young innovator an inspiring, action-packed summer adventure! All-new, hands-on challenges will spark their curiosity and build their confidence as they jump into limitless STEM fun with opportunities to imagine, plan, experiment and create. Read more about what your camper will do each day at camp:
PROBLEM SOLVING
Campers explore physics, design engineering and art as they build their own mini skate park, create DIY riders, personalize their mini skateboards and try out challenging features like ramps, bowls, jumps and rails.
CREATIVITY
To create an epic celebration, campers become event planners who engineer light-up party hats, use the science of color to create a bubble art banner and invent a Party Assistant to help bring their plans to life.
PERSISTENCE
Campers transform their own robot into a one-of-a-kind animatronic stuffie, and then use inspiration from nature and the power of intellectual property to protect their creation from an idea-stealing Copy Cat.
ENTREPRENEURSHIP
Ideas pop up as campers launch their own pop-up business, make smart financial decisions, and use entrepreneurship skills and creative strategies to attract customers with the ultimate pop-up event.
Check out  more  STEM, Tech Coding Summer Camps South Shore Boston
06/15/2023 – 06/20/2023
09:00 AM – 01:00 PM
06/21/2023 – 06/23/2023
09:00 AM – 01:00 PM
Instructor: Mr. Steve Perakslis, Head Coach, Abington Varsity Baseball
Games will be played with contests throughout the week.
Players will learn at their own pace in a positive learning atmosphere.
Proper technique for throwing, catching, fielding, and batting will be stressed.
Team defensive strategies will be covered.
Must be the required age by the start of the program.
Bring baseball glove, water, and wear comfortable shoes and clothing.
08/07/2023 – 08/10/2023
09:00 AM – 12:00 PM
Girls will learn skills such as dribbling, shooting, passing, defense, and strategy, while keeping the positive atmosphere of fun. Individuals will complete drills and play games. Bring a snack and drink.
07/17/2023 – 07/20/2023
09:00 AM – 12:00 PM
Abington High School – Gym
Experienced & knowledgeable staff, Quality facilities & instruction
Instructor: Peter Serino
General Information
Camp Staff: Abington High School Coaches, Present & Former Abington High Players, Present & Former College Players, Present & Former Local High School Players
Make check payable to Abington Park & Recreation
Camp Features
Campers will be split into age groups
Daily Skill Competitions, 3-pt & foul shooting contests
Modified hoop height for younger campers
Individual & team Skills, Emphasis on fundamentals & individual improvement, Small group work
Multiple games each day, Daily tournaments – 1v1, 2v2, 3v3, knockout, $ Ball
Theme Days – ex. "Celtics Green Day"
Group by age & ability
Prizes & awards
Camp T-shirts for all participants
07/10/2023 – 07/14/2023  09:00 AM – 10:30 AM
07/17/2023 – 07/21/2023  09:00 AM – 10:30 AM
07/31/2023 – 08/04/2023  09:00 AM – 10:30 AM
Are you interested in learning how to play tennis this summer?
Already know how to and want to develop your skills?
Want to get outside and have some fun with your friends?
THEN TENNIS CAMP IS RIGHT FOR YOU!
Open to all students entering grades 5-12
Run by Abington High School's Varsity Tennis Coach, Jim Prizio, and Abington High School Tennis Players.
Space is limited to 20 students per session.
**PLEASE NOTE: RACQUET'S WILL NOT BE PROVIDED
If you are looking for summer camp in other towns besides Abington, check out the South Shore Boston Summer Camp guide.
Check out the Boston and New England Travel guide to help you plan a great summer