Weymouth MA summer camps and programs 2023
The following places in Weymouth  MA have summer camp and programs
Updated for 2023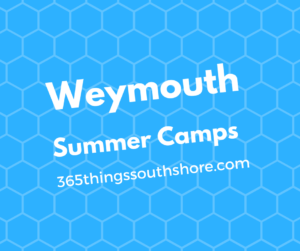 The Weymouth Youth Track Club will be hosting summer track tracks on Tuesday and Thursday evenings starting June 27th thru August 3rd at Weymouth High School.
Stars South Shore Day Camp is affordable for working parents! Camp provides breakfast and transportation. A professional, experienced staff and on-site directors carefully plan age-appropriate activities.
Summer Program for children entering K – 2nd grade Running weekdays 7:30am – 5:30pm, Stars Summer Programs provide games, athletics, arts and crafts, field trips and more! programs in Quincy, Randolph and Weymouth
dates tbd
Sliding Fee
based on family size and income
Weymouth Club has delivered high-quality camps for more than 20 years.
No wonder our campers come back year after year!
We take great pride in offering parents a safe, fun environment for children ages 3 to 18 during the summer. Our campers have plenty to do both indoors and outdoors, so bad weather never casts a cloud on the fun, it's never too hot, and there are no bugs!
Lunch and snack are given daily, and our camps are nut-free. Children should bring a water bottle marked with their name for Energy Center Camp and TFA Camp. Early drop-off and late pick-up are available for parents with busy schedules.
Our Tennis, Fitness and Arts (TFA) Camp, founded and personally run by Weymouth Club co-owner Sally Goldman, offers daily tennis lessons, gym time, arts and crafts, swimming lessons and free-swim periods.
The traditional track of TFA is run every week of the summer. We also offer optional specialty tracks combined with TFA for dance (offered 4 weeks), musical theater (2 weeks) and acro (2 weeks).
Waiting for 2023 info
The Weymouth Summer Hoop Basketball Camp will be hosting 2 weeks of slam dunk fun and excitement at Weymouth High School. Boys and girls entering kindergarten to 8th grade this fall can attend one or both weeks. The camp will also offer a special morning workout session for grades 9-12 boys and girls. This will be lead by varsity high school coaches as well as local college coaches. This program will entail weight training, conditioning, and basketball drills. Any player planning to play basketball at the high school is urged to attend.
Jul. 24 – Jul. 28, 2023
Full and half day options
Behn Basketball Camp is coming back to Weymouth in 2023! In coordination with the Weymouth Recreation Department, Behn Basketball Camp will be at the Weymouth High School in Weymouth starting Monday, July 24th. Our camp offers full-day and half-day, Monday thru Friday. This camp is for girls and boys.
The largest and most successful basketball camp in New England, Behn Basketball has grown throughout Eastern Massachusetts for the past 29 years with a reputation of excellent teaching focused on fundamentals. Our experienced coaches create an intense yet comfortable atmosphere that encourages learning and development. The goal is for each player to leave camp with improved skills, increased confidence, and acquired knowledge on how to practice and succeed. And of course we have fun too!
Highlights Include
Emphasis on fundamentals
Focus on proper shooting technique
Learning team play on both offense and defense
Appreciation of competition and good sportsmanship
Official Behn Camp T-shirt
Making friends and having fun
Tuesdays and Thursdays, starting 6/27/23 and ending 8/3/23
HIGH SCHOOL: 5:00-6:15
YOUTH: 6:15-7:30
Weymouth Youth Track Club will provide a safe, fun, and exciting experience for both beginners and returners to the sport of track and field. In addition to 8 practices during the summer where young people will learn the techniques, skills, and proper form of running, jumping, hurdling, and throwing, kids will experience 4 track meets to apply what they've been learning and compete within their age group. In our 10th year, we continue to provide a knowledgeable and enthusiastic staff of coaches and high school volunteers to give our campers, ages 5-14,
.
06/26/2023 – 08/25/2023
Half day and full day options
Camp Wey-Fun offers the unique ability for children ages 4–12 to choose most of their activities every day. Wey-Fun staff will join Great Esker staff and make use of the basketball court, Julia Road baseball field and the park to make an overall well rounded experience of Nature, Arts and Crafts and Sports. Children are grouped by age (t-shirt color) at each activity to allow for safe and age appropriate fun.
Great Esker Park Nature Camp:
Participants will "rove" the park from the George A. Clark Jr. Nature Center to the Back River. These short hikes along with stories, arts and crafts, and plenty of hands-on nature discovery will introduce the participants to the basics of how the park works!
Participants will "discover" the fundamental concepts of the science of the park as they uncover the web of relationships between the physical elements and the bugs, birds, fish and plants through group walk-abouts and competitions. Hikes, stories, nature crafts, games, contests and plenty of hands-on nature discoveries will bring into focus some of the lesser-known mysteries of the park.
Children are grouped by age (t-shirt color) at each activity to allow for safe and age appropriate fun. Participants will further be divided into cohorts according to Massachusetts Camp guidelines and all CDC and DPH guidelines will be followed.
Required
Deposits are NON-REFUNDABLE
Weymouth Recreation requires an up to date health record to be submitted prior to a child attending our summer program. This is for the health and safety of participants and staff and required by the Weymouth Health Department.
No child will be allowed at Camp with out a health record on file under any circumstance.
A Weymouth Recreation t-shirt and photo I.D. are required.
Great Esker Nature Camp is a licensed Camp for the Town of Weymouth and meets the Dept. of Public Health requirements 105 CMR 430.000.
State Vouchers are accepted for Great Esker Nature Camp.
Early, Extended, Single and Half Day Options
Please see the Activity List for Great Esker Park Early and Extended Day options.
Leaders in Training
Weymouth Recreation offers a rewarding opportunity for young teens in our summer program with an emphasis on personal growth, role modeling and team-building.
Under the guidance of staff, Leaders In Training (LIT's) will actively work with children in our summer programs at Great Esker Park and Wey-Fun. They will build confidence in themselves while working in front of a group. Independence skills will be practiced by taking on responsibilities and challenges. LIT's will spend time together in peer groups and work on leadership and performance skills through team building, activity planning, brainstorming and preparation.
All LIT's will be evaluated on their performance. Time as a LIT is eligible to be counted as community service for Weymouth High School. (up to 35 hours)
Registration is required and starts with the regular registration date.
Winter break, spring break, summer break—when school's out (but you still need to work), you can count on KinderCare to provide a safe and supportive learning environment that's focused on fun. We welcome children ages 5–12 during school break times and make sure they have a sensational, screen-free experience they won't forget.
Waiting for 2023 info
Looking for a summer program for your child entering Pre-kindergarten to Grade 8? Register for Summer Enrichment at SSCA!
.
If you are looking for summer camp in other towns besides Weymouth     Massachusetts , check out the South  Shore of Boston Summer Camp guide.