Hanover Firefighters Touch a Truck and Family Fun Day 2018
The Hanover Fire Department will will hosting the 7th Family fun day and Touch a Truck event at the Hanover Mall   on Saturday October 13th 10-4pm    This year it has a Halloween theme! There will be a candy drop, costume contest and more.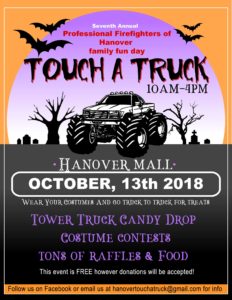 Moms Shopping Survey Earn Amazon gift card and more
This great family friendly day features   vehicles & equipment from private and public sector organizations but offers more than the typical touch a truck. The day will also have over a dozen vendors and other participants offering family-friendly services and activities. There will be food, beverages and snacks for purchase.
Free to get get but donations accepted
Touch a Truck has always been a fundraiser for a community cause. This year will be no different. We have decided that one of the causes where funds will go this year will be toward helping the family of Chief Warrant Officer III Scott Landis of Hanson who lost his life after a plane crash last month. Scott was a big help to the fire service in the area and especially the Plymouth County Technical Rescue Team. He also assisted us in previous years with helicopter visits to this Touch a Truck event. We are asking for donations for Scott's wife, 18 month old son and soon to be born second child. Here's a little more about him: