Shindigz Gaming Room & Art Studio in Pembroke MA
Shindigz is  an entertainment center for birthday parties and other fun celebrations in Pembroke that has an art studio and gaming room.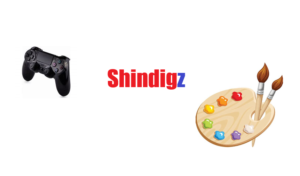 The  gaming room is equipped with 10 TVs, PS4, XboxOne, and Nintendo Switch, gaming chairs and headsets. We have a variety of the latest games including Fortnite,Apex Legends, Super Smash Bros., Mario Cart, and many more.
The  Art studio has drop In craft times on Tuesday, Thursday and Saturdays. We also offer a variety of Arts and Crafts to enjoy making with your friends. Some of the many crafts we offer are painting ceramic banks, creating sand art designs, making fleece pillows, tissue paper crafts, jewelry making, jewelry boxes, fleece pillows, dream catchers, magic color scratch art, etc. Kids get to take home their creations and projects.
We hold weekend Parent's Night Out drop off events for $30, which includes pizza, drink and dessert. We also offer birthday party packages and host other special celebrations
Birthday Party Packages
Art Birthday Party Packages
All Art studio packages include 12 guests. .  Can accommodate up to 16 guests. 90 minutes in the Arts and Crafts Studio and 30 minutes in the party room. All packages include a party host, paper goods, tablecloths, and utensils. Cake knife, ice cream scoop and matches available.  Book today
Video Game Birthday Party Packages
Includes:  2 hours: 90 minutes of playing in the gaming room. 30 minutes in the party room. 4 Playstation 4, 4 XboxOne, 2 Nintendo Switch Systems- A variety of games to play.  Gaming Chairs, Headsets, 10 43in " 55in TVs. Fortnite, NHL18, Madden 18, NBA18, Smash Bros., Super Mario Party, Just Dance 1 Party host to assist in the gaming room and to clean up the party room.  Gaming themed paper goods including: plates, napkins, table cloths, forks, spoons. Book today
CurbSide Pickup projects 
Check out their facebook event page 
Upcoming special events
Summer Camp 
WEEK 1 Art Camp will be July 22th- July 26. 9-12:30 $125.00 per child.
Monday- Mandalas and other Sand Art
Tuesday- Tie Dye
Wednesday- Wacky Slimefest
Thursday-Painting-canvas, ceramics, suncatchers
Friday-Friendship bracelets and beads  * Activities may vary
*Ages 5-12
Up to 16 slots available.
Kids can pack a lunch.
WEEK 2  Art Camp will be August 12th- August 16. 9-12:30 $125.00 per child.
*Ages 5-12
Up to 16 slots available.
Kids can pack a lunch.
31 Schoosett St #201 Pembroke, MA 02359