For You By Lynnette Crocheted Shop Holiday Gift Ideas
For You By Lynnette" sells  original designed hand crocheted items including afghans, throws, personal size blankets, baby blankets, toddler sweaters, preemie sweaters, hat and scarf sets with scarves of varying lengths, patterns, types of yarn  and colors, scarves with attached hoods for children and adults, needlepoint art on plastic canvas, personalized also available
Check  out the South Shore Boston Holiday Gift Guide 
I have been doing crochet for almost 30 years, giving away my crafts for baby showers, etc. I have been commissioned for larger projects such as bedspreads.
You can check out Lynnette's work on her facebook page 
This super soft cobalt blue hat and scarf is 5 inches wide and 5 feet, 8 inches long. It has fun and full fringe on either end of the scarf. The hat can be worn as a tam or skull cap.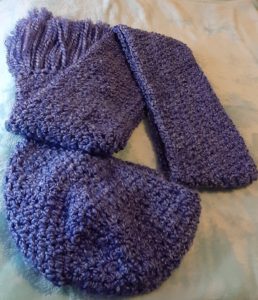 This Afghan is grey, variegated black,white grey, and then red, black and white. I call it "Queen of Hearts". The dimensions are 3 feet 7 inches by 3 feet 9 inches. I think this Afghan is my favorite of all the Afghans I have made.
Thank you for visiting my page.
Afghans can be made to order and price varies depending upon the size. Have a great day.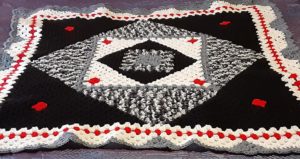 Make sure you follow
For You By Lynnette
  to see what she currently has available and you maybe able to request an item for a Christmas Gift.