10 plus Places for Fall Photo Shoot South Shore MA
There are so many beautiful South Shore  photo locations to choose from, and this list just scratches the surface! We asked in the Free and cheap South Shore Boston and Beyond Group where some of their favorite places to do a photoshoot! Whether you do a do professional one or doing one with your own  iphone camera these places are perfect.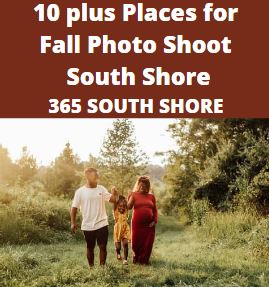 You are most likely going to  use these photos for your Christmas cards so a great background is essential
Powder Bridge Duxbury  Beach  
It may be a bit chilly for fall photos  but the wooden bridge provides a nice backdrop in any season
CPA hiking trail on Union St. in Marshfield
A large field with trees in the background shows fall in full force
Whitman Town Park 
Beautiful fall foliage to show plus the spouting water fountain
West elm in Pembroke beautiful water dam background with perfect fall colors
Scituate lighthouse
There is nothing more New England then a photo shoot at  a lighthouse.  Might be chilly for fall with the wind.
Beautiful place to take photos The park is charming and huge. It's a beautiful place with fantastic ocean views, rolling hills, and trails. So many places! Please note there may be an admission charge per person.
The red barn could be the perfect backdrop for photos but they have many rolling fields and pine trees.  Please note there may be an admission charge per person.




It's  scenic peninsula that extends into the Boston Harbor area.  You can get ocean views or feel like you are in in the trees!
A beautiful large park whether you want the gardens in full bloom or want classic fall folliage.  Plus there is a the larges Ames Mansion in the background.    Please note there may be an admission charge per person and a professional photographer fee.
Golden Tulip Farm Lakeville 
There are designated photo areas for those perfect family photos! call for availability
AJ McEachern Memorial Trail Scituate 
If you are looking for the perfect combination of Foliage and ocean
Emery Estate at King Oak Hill Park Weymouth 
Beautiful rustic location for a family photoshoot  fading white picket fences
Oliver mill in Middleboro
Beautiful location with a wooden bridge wide enough to take photos.   A great place to use as background for family pictures . Some rock walls and bridges still remain overlooking a water park with beautiful fall photos.
Pembroke Herring Run 
There is a stream there where the herring run, hence the name, and it flows all the way to the Charles River in Boston.   Lots of trees and several clear spaces plenty of nature around.  There is a also a wooden bridge wide enough for pictures plus a Mill that is great in the background.
Eustis Estate in Milton
The Eustis Estate in Milton is so pretty and breathe taking     You  do need to donate to Historic New England in order to do a photo shoot there,
Mistletoe Acres Tree Farm East Bridgewater 
Looking for a scenic christmas tree  location to photograph your clients? DM or email us at mistletoeacrestreefarm@gmail.com for more information. Professional and serious hobby photographers only, please! ☺️ Slots are booking now!
Christmas Theme look