Emerald Square Mall Spring Carnival 2022 in North Attleboro MA
The Emerald Square Mall in North Attleboro will be hosting   a spring carnival over April vacation week from Friday April 15th to Sunday April 24th  in the south lot.  Bring the kids to celebrate spring or even Easter over the school break week!
Check out the entire April vacation week calendar 
There will be rides, games, food and attractions for all ages. Amusements are provided by Rockwell Amusements.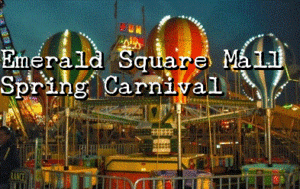 The carnival will be  Open daily from 2-10 PM daily in the  South Lot.
Unlimited Ride Wristbands $35 per person per day. Purchase between 2pm and 8pm and ride until close. Regular ticket prices $1.50 per ticket, 25 tickets for $25 and 40 tickets for $35 & rides take 3, 4 or 5 tickets each. All children must be at least 36″ to ride kiddie rides. Please check all height requirements posted at each ride. Some rides require children to be accompanied by a responsible, paying person. Absolutely no refunds.
We cannot wait to get started!!!
999 S Washington St
North Attleboro, MA