Weymouth 400 Village Festival 2022
Weymouth 400 will be highlighting each of Weymouth's 4 Villages for the entire month of May, June, July and August. Within the month, we will be hosting a "VILLAGE FESTIVAL" for all vendors, businesses and restaurants within that specific Square/Village/Zip Code on the 2nd Saturday of each month.
FESTIVAL DATES & LOCATIONS:
Saturday, May 14th – Jackson Square/02189 (Rain date: May 21st)
High and Commercial streets
Country music artists Timmy Brown and Samantha Rae with Whiskey-6 will perform, and several dozen businesses, restaurants and organizations from area code 02189 will set up booths. Tours of Weymouth's Herring Run will also be offered.
Saturday, June 11th – Columbian Square/02190 (Rain date: June 18th)
Join us for this free, family-friendly event featuring amazing live music by B-Side Charlie, puppet shows by Harry & Good News Gus at 12:40 & 3PM, a K-9 demo by the Weymouth Police Department at 1:30PM, great food, family fun, and more than 50 exciting vendors from zip code 02190
Todd Angilly, the Boston Anthem Singer for the Boston Bruins, will kick off the festival with the National Anthem at Noon.
Check out our Facebook event page for more info!
The Columbian Square 01290 Village Festival is sponsored by Mass General Brigham.
Saturday, July 9th – Bicknell Square/02191 (Rain date: July 16th)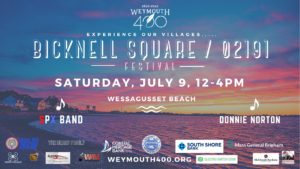 Saturday, August 13th – Weymouth Landing/02188 (Rain date: August 20th)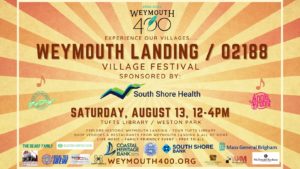 Our Weymouth Landing / 02188 Village Festival will take place  Saturday, August 13th from 12-4PM at Tufts Library / Weston Park!
Enjoy awesome live music by Pat Dowling Music and Annie Brobst while you explore shops, restaurants, food trucks, and more than 40 exciting vendors from zip code 02188! (Swipe thru to see the list).
Plus we'll have lots of great family activities too, including a stilt walker and living statue of Maria Weston Chapman provided by the @Boston Circus Guild, kids games, face painting by Kids Party Productions, and family fun!
While you're at the festival, enjoy great food offerings from these fine food trucks:
• González Food Truck
• Thyme Traveling Food Truck
• Ellie's Treats
• Mom On the Go Food Truck