Abington Celebrates Summer Kickoff Weekend & Fireworks 2022
Abingtonians will be gathering at Island Grove and other places  on over the June  Weekend to kick off the summer with a Town  wide  celebration  June 10th to June 9th. Saturday evening there will be fireworks! Abington will be celebrating  its 310 anniversary!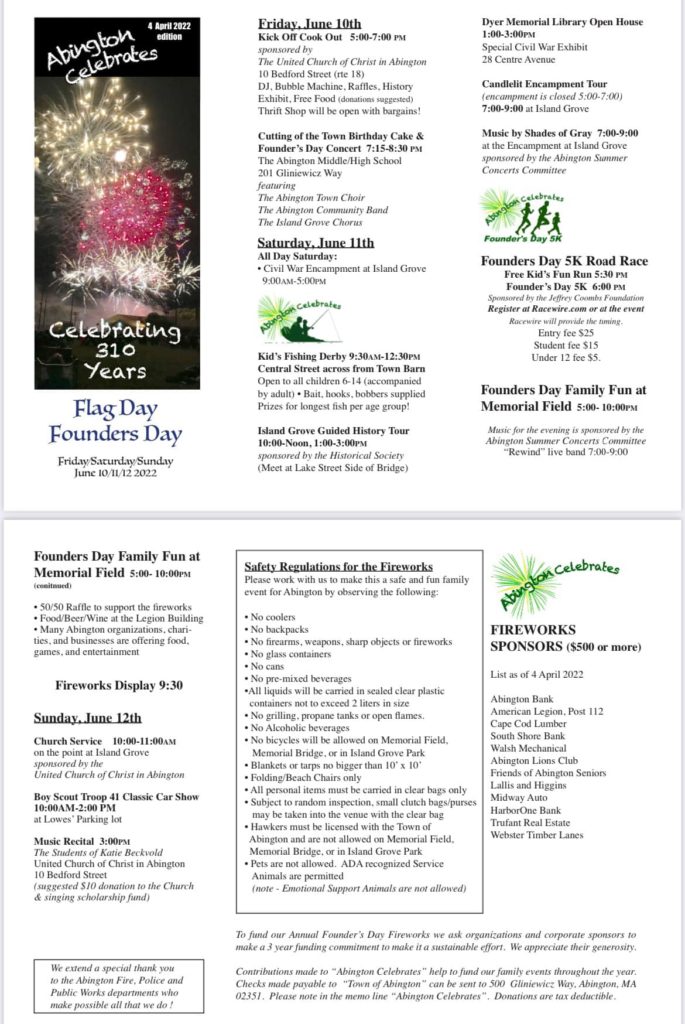 The weekend kicks off Friday night with a cookout from 5 to 8 p.m. at United Church of Christ, 10 Bedford St. There will be a deejay, history exhibit and free food  donations suggested . The church thrift shop will be open.
On Saturday, there will be an all-day Civil War encampment at Island Grove. A Founders Day 5K starts at 9 a.m. at Memorial Field behind Frolio, with a free fun run for kids at 8:30 a.m. The entry fee for the 5K is $25 per runner, $15 for students and $5 for runners under 12. Register at racewire-com.
A fishing derby for kids ages 6 to 14 will be held from 10 a.m. to 1 p.m. on Central Street, across from the town barn.
Saturday and Sunday includes Civil War exercises at Island Grove, Boy Scout demonstrations, history tour of Island Grove during the day and. There will be music by Shades of Grey from 8 to 9 p.m. at the Civil War encampment.
Gates for the fireworks open at 5 p.m. at Memorial Field. There will be food, games, entertainment by Abington organizations, charities and businesses, music  The fireworks display begins at 9:30 p.m. No coolers, backpacks, glass containers, cans, alcohol, bicycles or pets are allowed.