Quincy Flag Day Parade, Ceremonies and Fireworks 2022
Quincy's  Flag Day Parade and Celebration is Saturday, June 11th  where the  city  pays tribute to America's  Old Glory.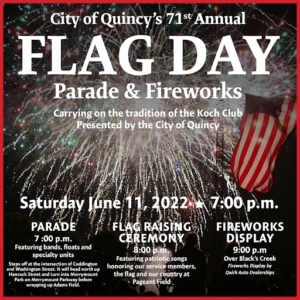 The parade steps off at 7:00 PM at the intersection of Coddington Street & Washington Street. It will head north up Hancock Street, turn into Merrymount Park and wrap up at Adams Field. It will feature bands, floats and specialty units.
The Flag-raising ceremony will take place at 8:00 PM at Pageant Field, featuring patriotic songs honoring our service members, the flag and our country.
The Fireworks display (by Quirk Auto Dealerships) will begin at approximately 9:00 PM over Black's Creek.