Middleboro July 4th Carnival and Fireworks 2022
The Middleboro Park and Recreation department will be hosting a July 4th carnival and Fireworks at Piece Playground from Thursday  June 30th  thru  Monday July 4th.   Fireworks will be on Saturday night.
Middleboro Fireworks have been changed to Friday night  7/1  because of forecast of Thunderstorms. This also means no wristbands on Friday, but there will be wristbands on Saturday.
check out where Fireworks are being held on the South Shore this year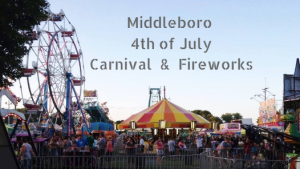 Thursday, June 30th 6-10 PM No Wristbands
Friday, July 1st 6-10 PM Wristbands
***FIREWORKS RAINDATE ***
IF FIREWORKS ARE DISPLAYED
there will be no Wristbands
Saturday, July 2nd 6-11 PM NO Wristbands
FIREWORKS
Sunday, July 3rd 6-10 PM Wristbands
Monday, July 4th 2- 6 PM DOUBLE WRISTBANDS
6-10 pm DOUBLE WRISTBANDS
See note about rain date  we will be following the meteorologists, for the projected weather on July 2nd, a Saturday. If rain is projected for the 2nd, than we will hold them on the 1st, Friday. If it is expected to be a clear night on Saturday the 2nd, the fireworks will be shown.
Pierce Playground
26 Jackson Street
Middleboro, MA